My Why
Gods gentle nudge has become a more demanding tap. My desire to write a book (in some form) has increased in intensity and I do believe this guidance is from Him. And yes I want to follow His leading. But what steps to take next are not clear. Ha, welcome to life. When did you step out in faith with 100% clarity? I do have a story to tell. But truly it is His story. I'm one of His scribes and excited to launch this new blog.
Some of you have known me and my family from its start. Others have connected through our recent crisis and have been following our journey on Facebook. And some of you may have stumbled upon my blog. Regardless, I look forward to sharing with you my insights from the Lord.
Credibility
What credibility do I have? I am not writing to you as a bible scholar, or as the wife of a minister (as if that is worth anything.) Instead, I am writing to you as a fellow sojourner who has been walking through the valley. I believe, the valley is where God gets your attention. The valley is where transformation happens. When God is all you have, conditions are ripe for growth and change.
Gotta go through it
I am reminded of that old childhood camp song… Going on a bear hunt. Can't go over it; can't go under it. Gotta go through it. Life is often that way. You gotta go through it. And going through it is where the magic happens.
My journey
I've known my identity as a Christ follower ever since I was a young girl — so thankful to be raised in a loving Christian home in Central PA where most of my clan still lives! But… my journey has not gone according to my plan. It has looked more like Gods plan below. And I don't see that pattern changing any time soon. Yep… I'm still having to go through it.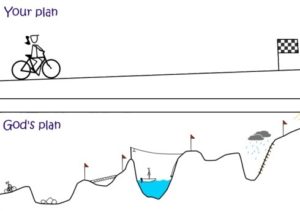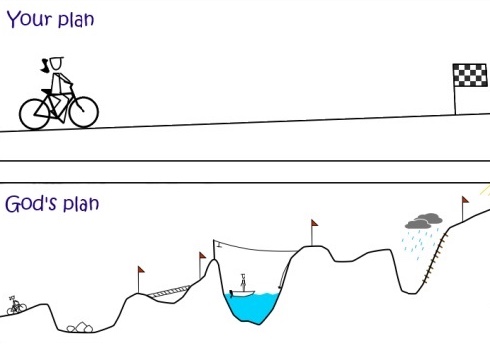 God created me and knows me — better than I know myself. I am a planner. I pride myself in being capable and self sufficient. Still, circumstances have happened throughout my life that have forced me to give up control.
The myth of Control
Aww yes. Control. What a myth. It was October 2014 when my son Ian, then 18, was exhibiting scary signs. (similar to someone having a stroke). Ian was born with a rare condition called a cavernous hemangioma. He has lesions in his brain. And new lesions can form. If they are quiet, all is well. But… they can misbehave. And they have misbehaved. And when they do, they wreak havoc.
While driving Ian to the ER on a Sunday morning, while my husband was preaching, God spoke to me. It wasn't audible, but crystal clear. A calm came over me and the Lord reassured me. "I've got this!" It was that day, that I credit with freedom. One of the scariest days of my life and yet, free? It was a strange dynamic. What was happening was so much bigger than me and my abilities, I had no choice.
GodsGotThis
I won't go into all of the details from back then, except to say, the MRI indicated Ian had a lesion the size of a man's fist. He faced major, very scary, life or death, emergency brain surgery. I was desperate. But from day 1, claimed the truth… "Godsgotthis"! He did. And He does.
I believe God is always preparing us. There would be many rocky roads ahead. He knew, that I needed some high intensity training to receive that phone call on Aug 16, 2017, just 6 weeks after a previous brain surgery Ian was still recovering from. "Are you the mother of Ian Hucke? Your son has been hit by a vehicle. You should come now."
From this recovering control freak… when life doesn't go according to plan and makes no sense… believe it to be true… #GodsGotThis
Debbie Hucke
If you'd like to know more of the story… I spoke at our church 6 months, post accident. Click the green title to listen. Lessons from the Valley