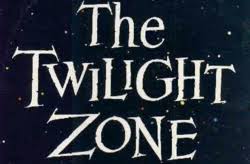 "There is a fifth dimension beyond that which is known to man. It is a dimension as vast as space and as timeless as infinity. It is the middle ground between light and shadow, between science and superstition, and it lies between the pit of man's fears and the summit of his knowledge. This is the dimension of imagination. It is an area which we call the Twilight Zone." Opening narration of season 1, 1959
That describes us
But with a little tweaking it is where the Hucke's are July 2018. There is a fifth dimension beyond that which is known to us.  It is a dimension as vast as space and as timeless as infinity.  It is the middle ground between heaven and hell, between practitioner's input and mom's intuition, and it lies between the pit of our fears and the hope of glory.  This is the dimension of traumatic brain injury.  It is an area which we call don Don, DON DONNNN… the Twilight Zone.    At this point, if I was really clever, I would add some dramatic music.
Our Reality
This is hard to write.  For awhile now, I've resisted writing about it because well… it's not pretty.   I haven't figured it out.  But I'm beginning to think, I'll never figure it out.   We are sailing in un-chartered waters.   It is like an open wound.  No…. more like an open abdomen cavity during a bowel resection.  Bloody and messy and confusing and painful.  Very painful.  It may come off as complaining. But… it's the truth. Believe it or not, writing about it has taken some discipline.  Because to leave it float around out there, maybe I can deny its existence.  Pretend everything is all OK.  To write it down, validates the reality of what is.
Face the Music
When I was growing up there were those mornings when I would whine to my mom that I didn't feel well and could I PLEEEEZ not go to school.  Most days it didn't work. But I recall a few days when it did.  And dog gone it…  I regretted it.  My mother had that sixth sense — No lounging in your pjs watching tv, that's for sure.  Rule #1,  "get dressed, you'll feel better."  Without spelling it out, the lesson was obvious.  Face the music.
Traumatic brain injuries SUCK
I have always hated that word.  I would scowl at my kids when they would use it casually.   If the word 'suck' is too potty mouthed for your liking, forgive me.  But I say it with Big Fat intention.  Traumatic brain injuries SUCK.  They are unpredictable, volatile, scary and dark.  Even if you can relate to the fact that TBIs are awful, I'm 100% certain that your TBI is different than my TBI.   Like a snowflake or fingerprint, every person who lives with a TBI has a different set of ever changing characteristics.  — A fact that adds to their amount of SUCK-AGE.
The pattern
University of NM classes begin in exactly one month.  Perhaps that is adding to the low grade panic around here.   Everyone agrees (and Ian would too if his judgement wasn't clouded) Ian is not ready to live on campus.  He needs more time.  But his demeanor holds us captive.  He is understandably sad and lonely and takes it out on us– actually,  mostly me.  His thinking goes… if I wear my misery on my sleeve, constantly; if I hate her kindnesses; if I sulk, and act lazy and incredulous with all helpful recommendations… then maybe I'll wear  her down and she'll let me move on campus.  I'VE SEEN THIS MOVIE BEFORE, AND IT DID NOT END WELL.
During a very dark week last September I remember a quote by my husband. He doesn't think it's a Doug original, but he also can't remember who said it. Ready? Wait for it….
"DEATH IS EASY,  LIFE IS HARD" 
If you know Jesus, those words are truth.  Death is, I've been called home to live eternally with Jesus.  It means no more pain or suffering or anguish or sadness.  I love the quote by Billy Graham, "Someday you will hear that I am dead.  Don't you believe a word of it, I will be more alive than I am now, I have just changed addresses."   Life is "get dressed, you'll feel better."  It means plodding through.  Life is — not yet and face the music.  Without a doubt life can sometimes be a lot of suck-age.
I love watching DVR recordings.  I can get through 6 hours of Wimbledon in about one.  If only I could fast forward life til about Christmas.
If Only
I find myself saying If Only a lot.  If only Ian could put on his own braces?  If only he was 28 and had more maturity?  If only he would do his exercises or practice reading?  If only he had dependable friends?  If only Ian enjoyed food and his tastes were normal.  If only he could drive?  Eight 'if onlys' and I've just scratched the surface.  Oh if only the "get dressed you'll feel better" advice worked this time.
And in that phrase lies my clue. FEEL. If I wait to feel better, it will be a very, very, very long wait.  In fact, there is no guarantee good feelings will come this side of heaven.
Mind over heart
If I have any hope at all of pulling out of the muck of feelings, I must call upon my mind to quiet my heart. Thank goodness for the timing of Sunday morning worship.
Last night we went to a baseball game.  It isn't my favorite, but it was a church outing and Doug got tickets for both Ian and me.  Ian cried, off and on, throughout the entire game.  (his attempts to find something better to do than to go out with his parents, didn't materialize) .   This morning, Ian reported that he better not go to church.  He would likely cry the whole time.  Honestly, I was relieved.
I had misty eyes on and off throughout the whole service,  but the final worship song did me in.  God spoke truth into my heart.  My mind woke up.  I highlight a few excerpts of the lyrics.
Do it Again, by Elevation Worship
Waiting for change to come
Knowing the battle's won
For You have never failed me yet….
Your promise still stands
Great is Your faithfulness, faithfulness
I'm still in Your hands
This is my confidence, You've never failed me yet
By the time we got to the bridge, I was wishing I had worn my sunglasses….
[Bridge]
I've seen You move, You move the mountains
And I believe, I'll see You do it again
You made a way, where there was no way
And I believe, I'll see You do it again.
I still feel yucky.  And Ian definitely feels yucky.  But I am standing on the facts.  I have seen Him move mountains.  I have seem Him make a way when there was no way.  In this moment, in July 2018, in the Twilight Zone, I believe I'll see Him do it again.  Great is His faithfulness. A truth I stand on.
Hebrews 10:23 Let us hold unswervingly to the hope we profess, for he who promised is faithful.
#GodsGotThis
Debbie Hucke