Way Back When
I have been conditioned. With many years of training under my belt, my consistent reaction has become habit. When the familiar number flashes on my phone, like Pavlov's dog, I react the same way each time. I hold my breath, my heart rate races and I answer the phone with fear and trepidation. It began when Ian first went to preschool. Back then he had a biting problem. And even though the biting did eventually stop, Ian graduated to other age appropriate drama. At each successive school Ian became notorious and Ian's mom was on speed dial.
Even Now
Fast forward about 16 years. With increasing time on his own, the phone number that evokes that same conditioned response comes from Ian himself. As much as I try, nothing can adequately prepare me. Every day there is drama — memory challenged, brain injured exasperated drama.
If you've been reading my blog for awhile, you may recall the phone cord escapade. That was small potatoes. We've graduated to bigger more challenging losses. If you'd like to know the background here is the link. The Golden Phone Cord.
Lost Shoes
Weeks ago Ian called me sobbing. It took sometime to understand what exactly transpired, and even then I still couldn't imagine how it was possible. Through the tears, I surmised a rescue visit to UNM campus was essential. The story goes… In the bathroom, Ian changed into painting clothes before his class and took off his shoes with the custom made inserts. Somehow he managed to hobble to his locker with only socks on. Upon his return, within minutes he claims, the shoes with inserts were missing. Someone stole them. As unbelievable as this story is, the facts remain… the shoes, (ratty with holes and stains and 200$ custom inserts, that are perfectly sized to fit his brace) have never turned up. I pulled up to the art building and a very dejected Ian, stumbled to my car in socks.
He may as well have had a big scarlet letter emblazoned across his chest or better yet FAILURE written on his forehead. Clearly he felt horrible about himself. My heart broke seeing, yet again, his crushed spirit. Even though justifiable, being angry or irritated would only ignite the embers. Instead, I stuffed all of that fury and frustration.
Without any short term memory, trying to retrace steps and refine the details of what took place serves no purpose except to provoke Ian and to remind him of his deficits. Given time and money to replace the shoes and inserts we have slowly recovered. And Ian has the added bonus of easily forgetting it ever happened.The constant challenges caused by Ian's poor short term memory has taken a toll.
Bozo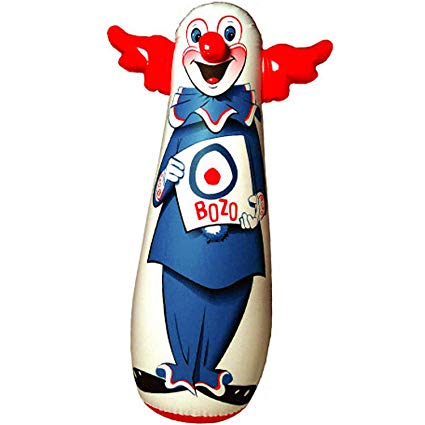 The image I can't get out of my head is that of bozo, the resilient punching bag. Inflated and weighted the clown stands happy and erect. Then with a swift wallop the clown bends to the floor but quickly bounces right back. Standing upright again, bozo's face is plastered with the same cheesy grin as if to say, try again loser, hit me harder next time.
Lost Brace
Last week I answered Ian's phone call. And yes, this time it was a much harder blow. Consistent with the millions of times prior, I held my breath, my heart rate raced, and I anticipated another 'oh no, now what' exchange. Ian was blubbering. Not just a cry; this was an I hate myself CRY. He was so worked up it took several minutes to even hear his voice.
Early that morning Ian had refused my help. It was one of those days when he woke determined to demonstrate the unencessity of help. SunVan arrived just as I spotted the velcro cushion piece for his new brace on the floor. "I don't have time mom. It doesn't hurt. I'll be fine" and out the door he went.
As you can imagine, the brace did hurt. It hurt badly. While taking his test, he took it off. After he finished, he doesn't remember where he went or what he did. He realized the brace was missing when he stopped at the pull up bars on Johnson field.
Problem compounded
Ian struggles to walk without a brace. But he was further handicapped because he had the right insert in the left shoe. And because his new titanium custom made brace has a built in orthotic, he now had no insert in the sloppy right shoe. Needless to say, Ian could barely walk. Franticly he returned to the testing site. No luck. A bad memory worsens under stress. With no idea what to do or where to look, he called me. By the time I arrived at UNM Ian compounded the crisis with all his brace-less walking with the addition of a painful sprained knee.
It has been seven days. Ian's $1,320, lasts a lifetime, custom made, titanium brace with a custom orthotic footbed, is still MIA. I've filled out a lost property police report. Reward fliers, including a picture of the brace, are posted all over campus. I am on a first name basis with the lost and found sights that have phone numbers. I've prayed continually. Nothing. Nada.
The Hits Just Keep On Coming
I see the pattern repeating. I sense Ian's resigned defeat as he tries to bounce back and feel good about himself again. My anger and frustration is buried deep so I'm able to stand erect preparing for the next blow. As Doug so fittingly says… "the hits just keep on coming."
The Conflict
I've been struggling to reconcile all of these hits. Deep in my heart I sense a clash. My very legitimate feelings come in direct conflict with my faith in a good God. He is a good God. I know he's a good God, but a God who allows bad things to happen. If I'm honest, it sometimes feels as if He's picking on me. I want to say, enough already.
And yet, why should I be surprised? When you put your trust in Jesus, all Hell breaks loose in an effort to throw you off course. Just maybe all the hits are the devils attempts to have us lose heart.
Genesis 50:20 ...you meant evil against me, but God meant it for good…
My sweet mother and I talk on the phone often. She lives in Pennsylvania with a compromised Parkinson's body. She can't do much physically to help our situation, but she can listen and pray. My mother has listened and prayed me through the mud and the mire, through every twist and turn and every heartache. She allows me to vent and she hears my anguish. A few days ago she made an interesting comment. She said, Debbie you are so brave — referring to my very public struggles, first on Facebook and now through my blog.
Handpicked for Hardship
Brave is not the word I would choose, but I have been intentional. You know why? Because I am determined to squeeze every single solitary drop of Gods good purposes out of our circumstances. I don't want to gloss over one little bit. I live out loud intentionally so as not to risk that any of it is wasted, not even a missing leg brace.
I've heard it said, that a Christian gets cancer and a non Christian gets cancer, so the world can see the difference.
Tim Keller writes, "One of the main ways we move from an abstract knowledge about God to a personal encounter with Him as a living reality is through the furnace of affliction."
As I look through the scriptures, I read that suffering serves a sacred purpose. It reveals His Glory. (2 Corinthians 4:17, Romans 8:18, Romans 5:3, 1 Peter 4:12,13, 1 Peter 1:6,7) . Perhaps God isn't picking on me, rather He has handpicked me to steward this hardship for His divine purpose.
A Glimpse of Glory
In the end, it's only by God's grace I can bounce back and stand up erect. It's only by God's grace that Ian can feel good about himself again. It's only by God's grace that we don't lose hope. And if the world can see a bozo smile through our daily trials, just maybe they'll catch a glimpse of Him and the power behind the smile.
Jesus, thank you for your promise that there is sacred purpose in my trials whether they are BIG or little. Please equip me to steward them well so that others may catch a glimpse of your Glory shining through.
GodsGotThis
Debbie Hucke