Ambition. I used to have lots of it. To accompany my ambition I had plans and lots of those too. And then not all at once, but over time, life happened. Life, the demanding teacher she is, forced me to react. Thrown back on my heels, it feels a bit as if I've been trying to gain my footing ever since.
Last week all four Hucke's traveled back to State College PA where most of my family still lives. The picture I include is from my niece Skyler's wedding this past summer. Everyone is pictured, except the Patriarch, Larry. Larry and Rita (my Mother and Daddy) had 4 children. And each of those children had children totaling fourteen grandkids. Remarkably, in addition to lots of time with mom and dad, we caught up with each of my siblings and their spouses and 13 of the 14 grandkids. Devon, we missed you.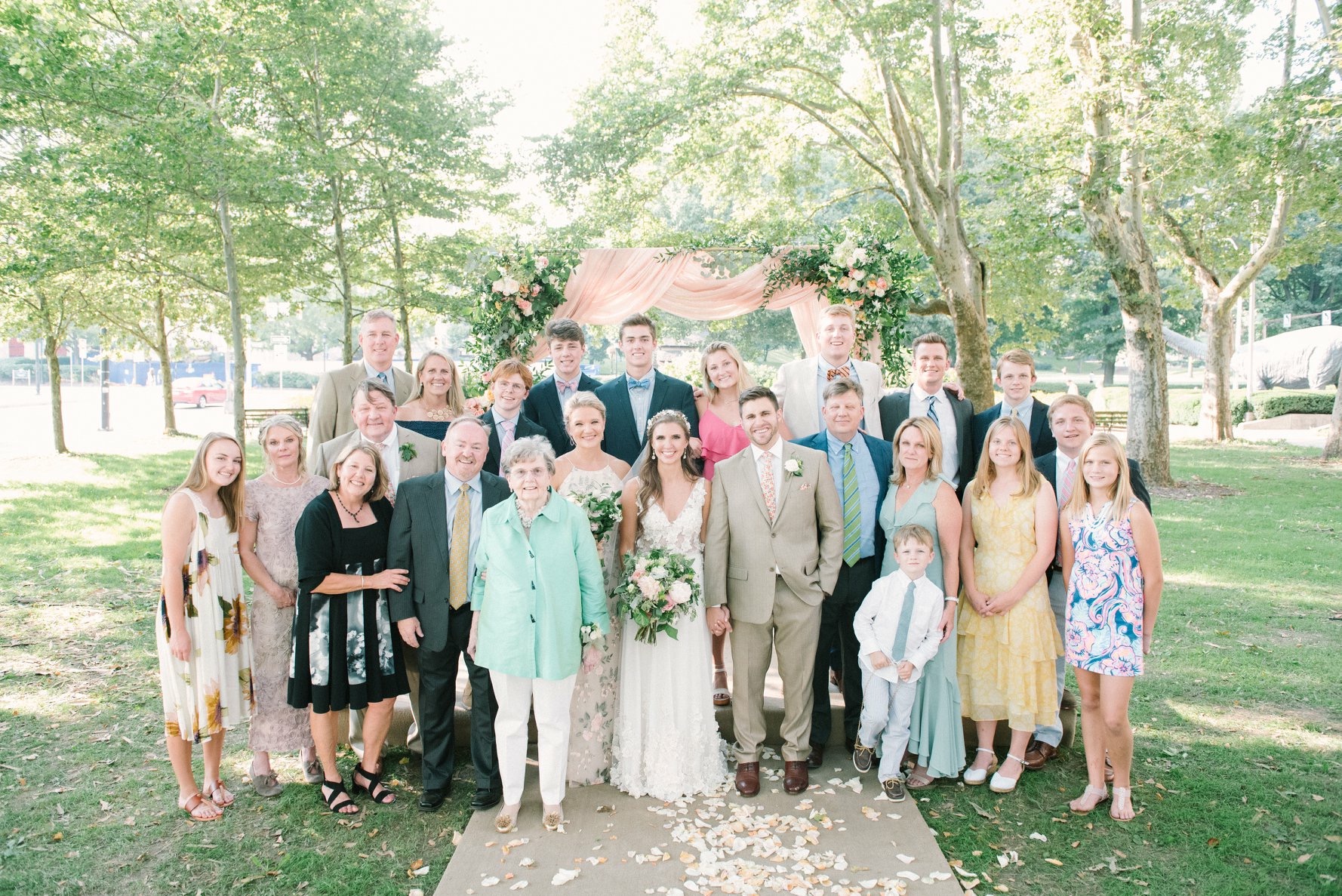 Since I don't live in their midst, I claim a more objective perspective. And from my view, it's easy to see the imprint of my parents influence on each of us. Hard working from day 1, my entrepreneurial parents, modeled an accomplished life. It's almost as if ambition is a genetic part of the Roeshot DNA.
Don't Sweat the Small Stuff
I used to have this little book that sat on the back of our toilet. "Don't Sweat the Small Stuff… and It's all Small Stuff" Maybe you know the book I'm referring to. It was innocuous, non demanding bathroom reading. But especially helpful advice for ambitious planners like me.
When visiting with my mother this time, I observed something. She seems to have mastered the advice of the book. Little ruffles her. Perhaps my memory is cloudy, but this is not the same mother I remember growing up. The mother I grew up with pushed and encouraged me to strive. I credit her with my zeal to achieve and squeeze the most out of life.
My mother seems different to me. Better. More Content. While Parkinsons' has ravaged her body, it's her gracious demeanor I want to have when I grow up. Behind the perspective of her 80+ years, she seems to have learned what matters. And it's not the small stuff.
Skewed Perspective
Isn't it funny how sixty seems ancient when you're twenty. But then when you're 58, sixty seems quite young. That's perspective. Our vision gets skewed depending on where we are in life.
Older and Wiser
I don't believe that just because you're older, you're automatically wiser. But I do believe given more years on this planet has advantages. Life teaches us lessons. Lessons we can accept or reject. If you've lived more life, it's possible to learn more lessons. And if you're like me and have lived with and through some unenviable circumstances, the life lessons you have the opportunity to learn, increase exponentially.
SO WHAT
Flying home to Albuquerque I reflected on our Pennsylvania visit. Since ambitious planners often like to write lists, I decided to give it a try. At the top of the page I wrote ACCOMPLISHMENTS. Immediately I felt stuck. What exactly have I accomplished? I couldn't think of what to write. Somehow writing down that I covered my dining room chairs felt hollow. As if to say, so what. Besides that was over a year ago.
WITH HIS GRACE, ACCOMPLISHING
After some time passed, I changed the heading. Instead of accomplishments, I wrote WITH HIS GRACE, ACCOMPLISHING. Yes. I'm in process. And since I'm completely and utterly helpless without Him, I'm not singly responsible. We're accomplishing together. Here's my revised list.
Surviving
Still laughing
Still married
Still loving
Still forgiving
Still hoping
Still learning
Still Praying
Still Getting better at Yielding
Still Listening to Him
Still enjoying tennis
Attempting to write
I can see it now. With my skewed perspective, a gift of my 58 years and challenging circumstances, He is at work in me, and that is all that matters. This task oriented, Type A, control freak, ambitious planner is ever so slowly being transformed.
Don't sweat the small stuff… And it's all small stuff. Ironically it takes grace to not sweat the small stuff. It takes grace to know what is the small stuff. And since there are no solo act Christians, I'm leaving the big stuff up to Him.
After all he promises in Philippians 1:6, my life verse says….
Philippians 1:6 6 being confident of this, that he who began a good work in you will carry it on to completion until the day of Christ Jesus.
In the end, it's not what I accomplish that matters anyway. It's what He accomplishes in me. Thank God for that.
#GodsGotThis
Debbie Hucke