AMAZING response
The response to the Lenten Prayer challenge has taken my breath away. Seriously, it has caused me to pause, to question, to fret but ultimately to seek Him boldly. I am so over my head.
Motivated to serve you, while knowing I would benefit too, has been the winning formula. I'm relying on Him and asking His blessing over each of you and your experience. If you're a blog subscriber, but are not yet a part of the Lenten Prayer challenge, you may still join us. It starts on Wed. March 6. Click this green link to add your name.
If you have joined the Lenten Prayer Challenge, but are not a blog subscriber, I have included you on this blog article because of it's relevancy.
Curious Timing
Being Ian's mother has been the hardest assignment of my life.
(For those of you who don't know our history…. Ian was born with a rare condition that resulted in 3 major brain surgeries. Then Aug 2017, 6 weeks after recovering from his third surgery, and five days after moving off campus for his junior year of college, he was hit by a car while crossing the street and has been recovering ever since.)
Even now, without being overly dramatic, there are times when I feel genuine relief to get through a day or a week and think… PHEW no one died. And then…without warning, I experience a new bottom. More trauma, more suffering.
Last Wednesday after being inundated with requests to join the prayer challenge, and feeling excited but scared, we hit a new bottom.
A Dark Afternoon
We met with Ian's new insurance case manager. It was just a cross the t's and dot the i's meeting, but it required a rehash of all Ian hates facing. (His health history, his rare diagnosis from birth, his risks, his disabilities from the TBI.) While he laughed through the two hours, as soon as she left the shift in his mood was palpable. Reminded of his disabled reality, I was his punching bag.
I recognized the pattern and I saw it coming, but that didn't matter. Emotions were negative; and words were both hurtful and explosive. And I got sucked into the fray.
PANIC
That evening, still hiding in my shell and reeling from the afternoon bloodshed, Ian didn't show up when expected. SunVan dispatch reported that he had cancelled his ride home. Frantically I called. I texted. Many times. No answer. Threats ignored. Doug tracked his phone to the art building and drove there. Locked doors. More ignored phone calls. As my stress mounted, the words in my head played on repeat. Ian was last seen in tears, barely able to walk into the UNM art building, wearing his favorite Marilyn Monroe tee shirt and carrying a peanut butter and jelly sandwich. I was a wreck.
To add fuel to my fear, the doctor called that afternoon with results from his EEG. Ian's seizure medicine should not be discontinued. (Medicine he takes every evening)
About 11pm we did receive a text from Ian's friend (3 hours after I had frantically called and texted him) "Ian is with me." While we were grateful Ian wasn't "on the street" the fear and panic turned to anger and hurt.
God winked
I tell you that story, because in the midst of all of that fear and panic and anger and hurt, I practiced the very prayer suggestion I had been writing about in preparation for the prayer challenge that kicks off Wednesday.
Coincidence? No chance! What is my suggestion?
Invite God into your prayer circle
Here is my hot off the press first hand account of my experience.
Unable to sleep, I got up in the middle of the night to check my phone. Nothing. I prayed. Lord, protect Ian from himself. Come Holy Spirit. I need you. I need sleep.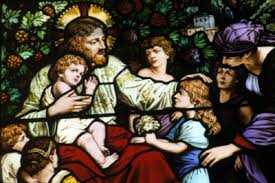 Please give me a picture to hold onto to silence my thoughts. On my knees now, a calm came over me. A strong mental image invaded my minds eye.  As if I was ten years old sitting in the pew, there He was. On the stained glass window from my hometown church in Pennsylvania the vivid scene of Jesus surrounded by children on his lap, captured my attention.  The picture made sense to me. Jesus was protecting Ian.  And miraculously, restful sleep did come.
The picture changes
The next morning, I decided exercise would be a helpful distraction as I endured more waiting.  After the warm up in my spinning class, I closed my eyes to climb the hill. Immediately I saw my picture again.  With Lady Gaga blaring, my eyes closed, I felt the hot tears build up behind my eyes. The picture had changed slightly.  Jesus was still seated with his arms out stretched, but my 57 year old self was nestled in His lap. With gentle loving kindness Jesus was holding me and speaking words of assurance.
Apology
After my workout, at 11:33am I received a text from Ian. "I apologize."
In spite of a lack of sleep and an aggressive workout, I was calm and energized. Confident now that God was directing my steps. Our conversation when Ian did come home could not have gone any better. And I wasn't even surprised.
In the end, God masterfully redeemed that horrible 36 hours. Beauty from ashes.
Invite the Lord into your circle. Be alert. Watch for Him. Listen for Him.
Some observations…
Invite the Holy Spirit into your prayer circle
Identify what you need, be as specific as possible… I needed sleep
Know that satisfying comfort ultimately comes from the Lord (We can't rely on other people to provide what only God can. Even though Doug tried to comfort me, he fell short.
God's presence can't be explained. But you'll know it when you experience it.
Conditions do not have to be quiet and reverent for God to be heard. I  easily heard God over Lady Gaga.
You cannot muscle an encounter with God. You invite Him into your situation and remain alert to receive what He has for you. Comfort. Direction. Insight. Revelation.
God delivers. Every. Single. Time.  He is faithful.
Final thoughts…
My experience was not anything mystical. In fact, it seemed weirdly natural. Most importantly, it was nothing that I DID. It was what God did for me.
Psalm 116:1,2 I love the LORD, for he heard my voice; he heard my cry for mercy. Because he turned his ear to me, I will call on him as long as I live.
John 14:26,27 But the Advocate, the Holy Spirit, whom the Father will send in my name, will teach you all things and will remind you of everything I have said to you. Peace I leave with you; my peace I give you. I do not give to you as the world gives. Do not let your hearts be troubled and do not be afraid.
#GodsGotThis
Debbie Hucke