Years ago, before kids even, Doug and I visited a very remote cabin in the Colorado mountains. Long before the internet and GPS, it was tricky to even find.
"Wow, I love this place," Doug exclaimed. "There are no people for miles. I can read for endless hours, never shave and not even change my well-worn t-shirt."
Off the Grid
While Doug daydreamed about his new happy place, my heart palpitated with visions of living like Tom Hanks, forever stranded completely off the grid. My only companion was this bearded man dressed like an unwashed hermit. Making me, a half-crazed, conversation-starved woman who talks to her tin coffee cup.
Introvert or Extrovert
Are you an introvert or an extrovert? Doug and I are what I used to think are classic examples. Doug the introvert, thinks, processes, and then with as few words as possible, he speaks. For me, the extrovert…I Fire first, then Ready and Aim. I figure out what I think along the way. To say that Doug and I have different personalities is an understatement. To realize that we have been married for 25 years is a miracle.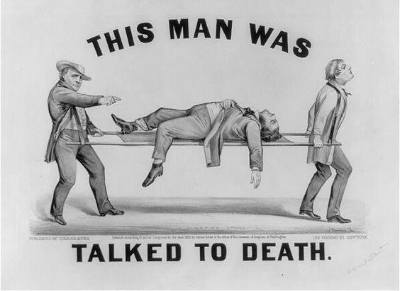 Recently though, I've been exhibiting some introvert tendencies. I'm not ready for some remote cabin in the woods, but I do thoroughly enjoy my alone, no people time. I wonder what that is about?
What recharges your batteries?
According to Myers Briggs, being an extrovert or an introvert isn't about being outgoing or shy. Instead it's about how you recharge your batteries. Where do you draw your energy from?
My Calgon moment
This past week after a very unsatisfying, maddening, worrisome morning spent with Ian, I treated myself to a round of golf.  By myself. It was a Calgon take me away escape.  Just in case you're not old enough to remember the iconic commercials for Calgon.  Watch this short clip. (be sure your volume is on)
Since my golf is erratic, and demands my full attention, my mind couldn't drift back to my morning frustrations. Forced to concentrate, it served as the ideal antidote to my morning stress.
Anger Release
I ranted at that golf ball. I raged at my possessed 3-wood. And don't even get me started on the mower machine man who paused and waited for me to hit just so I could feel the full impact of my shame for being so horrible. I needed an afternoon to NOT be with people. I wanted some time and space to behave badly.
Can you relate? Hours later, feeling a bit better, I thought more about my curious need to escape.  This was not the the calm, bubble infused paradise Calgon promoted.  More importantly, this was not what Jesus had in mind either.
Anger-Ville
Keenly aware of the pure enjoyment I experienced from entertaining my anger, I took solace in the fact that at least I had the presence of mind to spare anyone from my company.
Yikes, I wondered. How long has this escape to the land of anger-ville been happening?
It's about Control
I've decided the issue isn't just my anger. It's the notion that I want, what a want, when I want it. I'll let go of my anger when I am good and ready. And in the meantime, I'll enjoy it, thank you very much. Once again the Holy Spirit reminded me that it's an issue of control. I'm foolish enough to think that I have mastery over my sin. I can stop on a dime. My sweet, contrived politeness will kick in anytime I want it to.
Without warning though, I notice that what provokes me happens more frequently and how I react happens more intensely. And I'm left wondering… how did I get here?
Sin is slippery. It almost always begins small, and seemingly insignificant.
A Dangerous Turn
Turns out my increased desire to be alone may have begun as an introvert tendency and a way to refresh and recharge my batteries, but in my case it took a dangerous turn.
What about Jesus
Have you ever wondered if Jesus was an extrovert or an introvert?
How did Jesus get recharged? What refreshed him?
It's clear all throughout scripture that Jesus loved being with people. He was often found among the masses and He spent loads of time with his smaller group of twelve.
But check out this revealing verse.
Luke 5:15,16. But the news about Him was spreading even farther, and large crowds were gathering to hear Him and to be healed of their sicknesses. But Jesus Himself would often slip away to the wilderness and pray.
The Model to Follow
It's key to notice that Jesus knew his limitations. Yes, he pulled away from people to recharge, but notice how He spends His time alone. He prayed to His Father.
Who wants to look to God when she's angry? I get it. But the Holy Spirit tells me to do it anyway. It's an issue of obedience. We must shift our focus heavenward. As long as we focus inward and lick our own wounds, we lose, we give the devil a foothold. And, we miss out on true refreshment.
Believe this!
The truth is, even when I'm angry, my Father in heaven, completely 'gets' me, accepts me, loves me, and has timely wisdom for me.
My golf escape was not a bad idea. But it would have been so much more effective if I allowed Him to come along with me.
I love the Message translation for this passage.
Ephesians 4:26-27 (MSG) 26-27 Go ahead and be angry. You do well to be angry—but don't use your anger as fuel for revenge. And don't stay angry. Don't go to bed angry. Don't give the Devil that kind of foothold in your life.
In the end the extrovert/introvert quandary isn't all that useful. He can and does use any personality. And if you're hiding behind what makes you most comfortable … you're missing the point.
The way I see it…
Introverts, prefer to look within.
Extroverts, we tend to look out.
All Believers must look up.
Dear Heavenly Father, I praise you for your love for me and especially for sticking by me in the midst of my ugly sin. I admit, I enjoy it sometimes. Even though it often starts out innocently, I entertain it for way too long. Please forgive me. Please help me to realize that you can take it. I don't need to clean things up before coming to You. In fact, I can't clean things up without You! Thank you for Your mercy and grace! I love you Jesus! Amen.