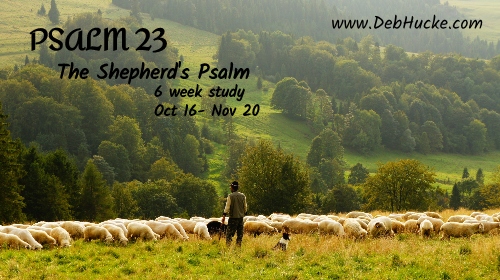 Psalm 23:1 "The Lord is my shepherd, I shall not want."
Psalm 23 — Familiar Comfort
If you grew up in church, or if you've been to a funeral, you're probably already familiar with this Psalm. Sometimes an old familiar passage like this one can tempt us to think it doesn't apply to us today. Or we pass over it quickly by rote without allowing the words to penetrate. I believe the word of God is alive and dynamic because WE are constantly changing. So how one passage speaks to you as a young mom, for example, may speak to you differently when facing a new season or situation.
Over the next six weeks let's ruminate on Psalm 23 and allow the Good Shepherd to speak truth directly into our current season of life. I believe no matter where you are, there will be something for everyone.
Thesis Statement
David begins Psalm 23 with a profound statement — The Lord is my Shepherd, I shall not want. In other translations it says "The Lord is my Shepherd, I lack nothing." The point is clear—when the Lord is our shepherd all of our needs are met in Him.
That's a pretty bold claim, wouldn't you agree? Let's unpack Psalm 23:1.
The Image of our Shepherd
I love that of all the names for our Lord, David chose to refer to Him as his Shepherd. We know from John 10:11 and other references in scripture, that the Shepherd refers to Jesus, our Good Shepherd. David, was not only a shepherd boy, but also a king and the man after Gods own heart. In his lifetime, he experienced the highest of highs and the lowest of lows. David knew first hand what it was like to be a shepherd, but also what it was like to be shepherded.
My personal Shepherd
When I think of the Lord as my shepherd, my image shifts from the transcendent, almighty, God of universe, to an intimate and personal shepherd who loves and cares for feeble me. That image suggests God's control over my life and His desire to guide, protect and keep me safe. A shepherd is strong yet gentle, authoritative but also attentive. A shepherd not only cares ABOUT His sheep, He also cares FOR His sheep.
His Sheep
It must be said, if He is our shepherd, that makes us His sheep. If I had to choose to be any animal in the kingdom, a sheep would not make my list. Sheep are needy, vulnerable, followers, fearful, easily distracted and wayward. Not exactly a list of strengths for your resume!
As I've thought more about this psalm, what I've concluded is that it's ok that I'm a sheep. It's fine that I'm not strong and self sufficient. In fact, I was created to be His sheep and to accept my role as one. I cannot deny that I have obvious sheep-like characteristics and I desperately need a shepherd.
We lack nothing… Really?
Practically speaking, how is it that when the Lord is our shepherd we lack nothing? It sounds audacious, doesn't it? When I think back on my life, I see His hand and how that has been true. But in my present day, I seem to miss it. Why is that?
Hindsight has taught me a few clues. Consider if any of these are true for you too.
1. We misunderstand our needs.
I remember when Ian was in the hospital after his near-death car accident. Vividly I recall the dark, scary, unknown that we faced. Would Ian die or would he live? I wondered if he'd want to live? How would his life impact my future? At the time I remember thinking, if I could only know what the future holds, I could prepare. I relentlessly prayed for God's insight. Like a demanding toddler, I thought I needed understanding. Instead, God knew I needed His presence and His peace. God knew that I couldn't handle His understanding. I would have crumbled under the weight of it had I learned it prematurely.
2. We misinterpret His answer.
While in a coma, Ian was in traction with a broken femur but his weak lungs prevented the needed surgery. When he finally woke from the coma, the traction was incredibly uncomfortable and limited his forward progress. Orthopedics told us even with strong enough lungs, they still couldn't operate because now the bone had already begun to heal. I was livid! God knew it and so did everyone on our wing of the neuro ICU. To me this was an archaic decision. God could have done something!
A week or so later we learned that Ian was a candidate for the renowned and specialized Craig rehabilitation hospital in Denver. Ironically Ian was considered BECAUSE due to his traction, no local facility could handle his care, which insurance would have demanded. I thought God had been silent. Instead, God kindly protected me from my own prayer by providing a far better outcome. An answer that I could not have predicted or anticipated.
3. We follow the wrong shepherd.
Sometimes we hear a voice that is not that of our true Shepherd. It can be our own voice even and we march off in our own strength thinking we've got this, this doesn't warrant God's involvement. Until it does!
Other times we hear the voice of the crowd and follow carelessly. We draw conclusions that break our Shepherd's heart. We lose our way and wonder how we got there.
Satan also takes advantage of our vulnerability. In Matthew 7:15, we are warned of how false prophets show up in sheep's clothing. If we don't know the Shepherd and can't recognize His voice, we are susceptible to shepherd imposters. We may think we're on the right path and instead, we've been duped.
When we misunderstand our needs, misinterpret His answer or fail to discern His voice, of course we lack. We become ashamed, afraid, stressed and wander without purpose. But it doesn't have to be that way.
Sooooooo this week as you repeat Psalm 23:1 and commit it to memory, believe it to be true. Here is my personalized, amplified paraphrase.
The Lord is my Shepherd and because I accept my sheep-ness, I depend on my loving and trustworthy Shepherd to meet all of my needs in every season, in every situation. Amen.
GodsGotThis, Debbie Hucke
Questions to Ponder…
What sheep characteristics do you possess that you strive to compensate for.
Where do you find yourself lacking today? What can you do to pursue Jesus as your provider?
Do you like the image of Jesus as your shepherd? How does that compare to your current perspective of Him.
Can you think of a time when you followed the wrong shepherd? Consider how the Good Shepherd brought you back and thank Him.
What situation or circumstance makes you feel unsafe today. Can you claim this scripture as His promise to keep you safe?
Next week tune is as we look at Psalm 23:2.