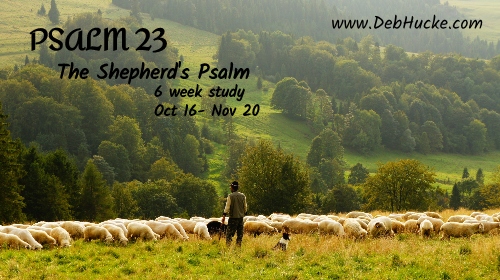 3 "He restores my soul; He leads me in the path of righteousness for His Name's sake."
The Benefit of scripture memory
Welcome to week 3. I hope and pray that you are experiencing the benefit of scripture memory and deeper study. For me, when dwelling on a particular chapter or verse, it saturates my thinking and colors the rest of my day.
Investing time and energy
Not long ago I was in the market for a new car. I spent weeks thinking about which car I should purchase. The features most important to me were not typical… the color inside and out, could it handle snow, dash conveniences like cupholders, was it a deal, and would it fit all my toys. (Bike, skis, racket, golf clubs).
Finally, after Doug added his two cents, we made a decision. Now from the seat of my new car driving all over Albuquerque, I constantly saw cars just like mine. It was as if a white golf all trek VW was the most popular car out there. Because of the time and energy I invested in choosing it, my sight was even filtered by it.
Scripture colors everything
The same is true for me when spending time in scripture.  Because of the energy I invest, and the time I spend considering its relevance to my life, and of course by the power of the Holy Spirit, my day and vision is colored by it. I hope and pray you can you relate. It's a game changer.
The Path
The central image around verse 3 is a path. Each one of us is on a unique path. Think about where you began and where you are now? As a child in Pennsylvania, I could not have predicted the twists and turns of the path of my physical residence, not to mention the details of my life and purpose. Pennsylvania, North Carolina, California, Tennessee, Colorado, Wash DC, Scotland, Illinois, New Mexico….to be continued. I'm certain there is not one person out there whose path looks like mine and I'm sure the same is true for you too.
As a child of God, our paths are as different as our fingerprints. But they also have three critical elements in common.
"He restores my soul"
1. Each right path begins with God's restoring grace.
Last week we considered how His authority is essential to knowing the true rest of green pastures and quiet waters. Psalm 23:3 begins with His promise to us. "He restores my soul."
Restores
Consider the verb "restore". According to the dictionary, restore means to bring back, to reinstate, to return someone to his previous position. But don't miss this nuance. For you grammar geeks, the verb appears in verse 3 in its imperfect tense, restores. That suggests an important truth… soul restoration doesn't happen just once. It happens over and over and over again.
When a sheep wanders off it has no ability to find its way back. The sheep requires his shepherd to bring him back and restore him to his rightful place among the flock.
Grace
He restores my soul is the promise of grace. God restores us when we first become a Christian and then every time we wander His grace brings us back to our rightful place as his beloved. What reassurance.
"He leads me in paths of righteousness…"
2. Each right path He leads us to, is for our individual good.
In my experience, the right path can often feel wrong. Have you ever felt as if your path is boring or pointless and had no purpose? Or can you recall a life event that obliterated your path and you were completely sidelined?
What doesn't feel right, may not be wrong
After my kids were born, I gave up my demanding but lucrative career to stay at home with them.  Overnight it seemed my path was radically different and I questioned it. I longed for adult conversation and to feel productive and purposeful.  I had been good at my job. This is just a season I told myself.
And then, being a mom to Ian has been full of surprises. Early on, as a stay at home mom, I studied nutrition in an effort to impact Ian's complicated health and shared my knowledge with others. More recently, after his accident, I became his full time care-giver and began to write. Neither path was my plan A.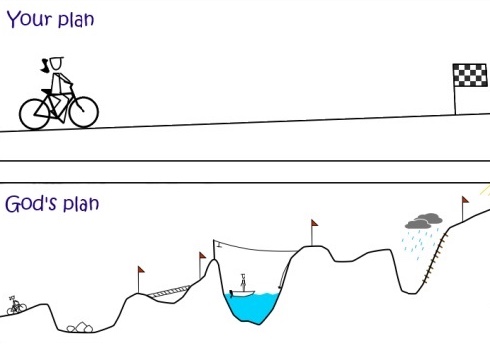 This picture is an accurate representation of my planned path as compared to His right path.
I can assure you, from everything I know and trust about God and His character…. Every right path I have been on is for my good and for eternal purpose.
The Truth
You may be on a hard path, but it may be the very thing bringing out your beauty and purpose. Sometimes our plan B or C is His plan A.
"…for His names sake"
3. Each right path, points to the same destination, His Glory.
Every one of us has a Shepherd manufactured GPS directed to His Glory. In other words for His names sake. Because we are created in His image, everything we do and everything we are is a reflection of Him. In essence, God's very character is at stake.
Life lesson
As a young pastors wife I strived to play the part. I felt neither qualified nor called. I just came with the package. In that season I carried the heavy burden of expectations. I remember one Sunday Doug left before I "inspected" his wardrobe choice.  Arriving at church with two spit polished toddlers, (don't you dare underestimate that feat), we took our place on the front row.  When Doug walked up front, I nearly died. He was wearing a bold red tie with brown pants and black shoes. Certainly EVERYONE noticed and concluded I was the failure to not have prevented this disaster. I don't think I heard one word of his sermon that morning.  
I've matured since those days. And Doug has become much better and more independent at his wardrobe choices. Even though I was wrong to care what others thought or assume the responsibility for Doug's image, the life lesson was valuable.
The Point
The condition of the sheep is a reflection of the shepherd. Have you heard it said, "You may be the only bible someone reads." The world is watching and we have the opportunity to follow His lead to paths of righteousness.  When we do, we reflect a Shepherd who looks remarkable. 
Romans 11:36 (NLT) "For everything comes from him and exists by his power and is intended for his glory. All glory to him forever! Amen."
In the end, it is ALL for His Glory.
Debbie Hucke