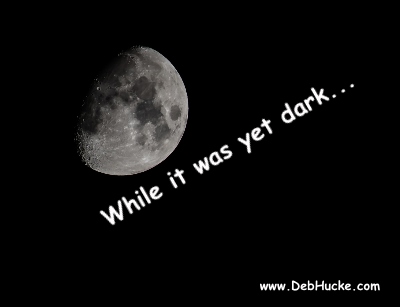 I'm writing this on Easter Monday and in case you need the reminder, there will be no traditional Easter egg roll on the White House lawn.
Yesterday, in spite of the pandemic, we worshipped together. Before you report us, there's more. Our church gathered for a drive-in service. We met in the parking lot, stayed in our cars and tuned our radios to an uplifting experience led by a few who guided us in spirit-filled worship. We were together, but apart. It was weird yet wonderful. As my friend Jennie said, it was proof that the church is not a building. And I left feeling alive and hopeful.
And then…
In Albuquerque, after a week of sun and warm temperatures, today is overcast, cool and gray. And … the weather matches my mood.
Isn't that the rhythm of life? Up then down; down then up. Dark then light; light then dark. Valley then mountain; mountain then valley. As a nation, a world even, we have hit a sustained down, dark, valley and what feels like even more lent.
And yet… Easter has come. I even shouted out of my sunroof, He is risen. Hallelujah.
It's a beginning
Today, as I think about what just happened I am reminded that Easter is not just a day. It isn't a spectacular ending to a hopeful story. Instead it is the beginning. It's the hope of Easter that carries us forever.
Easter celebrates the culmination of the preposterous story and the ultimate miracle. Did Jesus, born of a virgin really live a sin-free life? Did he willingly accept betrayal and die a brutal death to be the perfect sacrifice for you and for me? After being buried in a tomb, like a common criminal, did He conquer death? Yesterday we shouted, Yes! He is risen. He is risen indeed. Hallelujah.
Have we forgotten ?
With Easter behind us, have we already forgotten? Do we have the courage to embrace the hope of Easter and boldly follow the Lord today? Easter takes us on a journey from a doctrinal statement, "He is risen and reigns forevermore," to an urgent purpose, "Go into your family, community and the world and do something about it."
While it was Yet Dark
I noticed a detail to the Easter story that seems especially significant this year. The disciples went looking for Jesus, WHILE IT WAS YET DARK. If we are to follow their example, we too are to look for Jesus while it is yet dark. During this pandemic, we can't just remain safe and sheltered, waiting for the storm to pass. Our Easter assignment is to GO while it is yet dark. We don't get to do it when the sun is shining, our leadership knows what it's doing, life is hunky dorey and we have things under control.
Instead, we must GO while it is dark and uncertain. To do that, requires faith. And if you're stuck perhaps you need to ask the question. Am I looking with my human eyes or through the lens of Easter faith?
Hebrews 11:1 Now faith is confidence in what we hope for and assurance about what we do not see.
Easter People
We are Easter people and our purpose is more important than ever. God will use this worldwide crisis. Maybe, He has demanded the world's gripped attention and we, the church, are being tested.
In this dark confusion, people are searching for answers. We turn on the news and we're scared and discouraged. With all of the forced closures and the impact to our bank account, we're scared and discouraged. We look at our blank calendar for months ahead and we're scared and discouraged. Isn't it interesting that we live in the most medically and economically advanced age in history, yet we can't solve this.
We can't do it
We need a miracle working God, a Risen Savior. What if this crisis is the necessary precursor to revival? Because, WE just can't do it. We can't solve it and we can't erase its impact. And that fact only becomes obvious in the dark.
Here's the thing. We never could do it. It's that admission, that breathes life.
Because of Easter
God is still in charge. We are never alone. His plan will be achieved. And there is more to this life than meets the eye.
Easter asks the question… Are you with me? Prove it. More than ever, the world is watching and desperate to know HOPE. While it is yet dark, with the lens of faith, show your frightened friends and family where to find HOPE.
With the hope of Easter. Go. And know that in the darkness, even a little light will shine.
For His Glory, Debbie Hucke