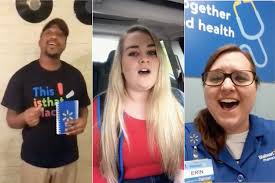 I woke early for a Saturday. Not all that surprising since my days have blurred. Determined to start the day on a less jittery foot, herbal tea instead of coffee. From my favorite sunny chair I prayed, help today to be different. Please God, I need today to be kind and gentle and peaceful.
Jesus Calling, for the 18th… Seek to please me above all else. Let that goal be your focal point as you go through this day. Such a mindset will protect you from scattering your energy to the winds. Without a focal point to guide you, you can easily lose your way. You inhabit a fallen, disjointed world, where things are constantly unraveling around the edges. Only a vibrant relationship with Me can keep you from coming unraveled too.
Sometimes the brick to the head is more obvious than other times. AND THEN I realized I read September 18, not April 18. Ha. A divine mistake. Thank you, Jesus.
Unraveled
Guilty of having lost my focal point, I see now how unprotected and vulnerable I allowed myself to be. Easily ravaged by the wind, I had indeed unraveled.
During these strange times, I've discovered it isn't just me. I bet you have noticed it too. Because we are all in un-chartered waters, even those who are typically focused and anchored seem more aimless and fragile.
In general, we are just "off", out of sorts, not ourselves. Maybe a bit more on edge, reactive, defensive and ungracious.
Healthy public discourse is gone
This pandemic is taking a toll and not in just the obvious ways. Any healthy public discourse has gone. What was once a little mud slinging from todays vantage point looks like child's play. Now, to engage at all, promises a bloodbath.
Friday I made the costly mistake to share my opinion online. In a matter of seconds… like vultures circling for prey, the hurtful comments came with brutal force — insults, low blows and even offensive profanity. This, from my so-called 'friends.' Bewildered, I watched in amazement, before hitting reply. I waited for my defenders to enter the arena. When they did, things got worse, quickly. Hurt and embarrassed to have instigated it and even to be associated with such shameless people, I deleted the conversation and stood back, stunned. I recited the childhood mantra, sticks and stones may break my bones but names… and quickly decided the stupidity of it.
Fall out
Unfortunately deleting the evidence did not erase the impact to my soul. It wasn't a fleck on my shoulder I could simply brush away. I was shocked, confused, hurt and angry… to the core. But there was more to it.
Days later, still bruised, I'm grateful for the ugly incident. It became the very catalyst that has re-anchored me, re-focused me. My reaction wasn't solely a result of the nasty facebook interaction. It was the straw for sure. But the camels back was already weighed down.
Lean on Me
Have you seen the Walmart commercial of the employees singing Lean on Me? Seeing it the first time, I cried. We do need to lean on each other. And that fact has become even more evident during our isolation. I'm grateful the un-sung heroes are being celebrated —not just the doctors and the nurses, but the techs, the admin people, the truckers and the grocery employees.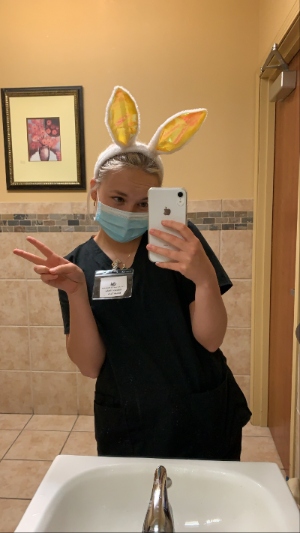 Here's a picture of my favorite hero. Becca was able to stay in Waco finishing her last semester at Baylor while also working full time at the rehab hospital.
Me too
Lean on me too, I decide. I'm healthy, have extra time and a strong desire to help. I've committed to pray for two different friends throughout the days they are plugged into chemo. I text frequent encouragement to some burdened young moms, always at the ready to assist. I'm an errand runner for an elderly couple. I pray for a mother whose anguish is unrelenting as her young son is in a coma, alone. My heart is heavy for my extroverted kid who doesn't really understand. And I'm in constant touch with my parents who can't see visitors and whose universe is already confined to a bedroom.
With all the time in the world I chide myself, this should not be overwhelming. Why are you so fragile and sensitive, I wonder. Get a grip, Debbie!
Empathy overload
Sometimes… it's all just too much. The need is too great, the suffering too pervasive, and my efforts too meager. My comfortable life of oblivion has been shaken. It is as if the once muted world is now screaming and I hear every voice.
Feeling overwhelmed is not a new phenomenon. Even without a pandemic, we use strategies to cope when life gives us more than we can handle. Typically we choose the low-hanging fruit to ease the pain or at least distract us. Binge TV, banter on facebook, a glass of wine, baking goodies we don't need. These emotional pick-me-ups are imposters, bandaids. They are teases the enemy uses to convince us we are OK. In fact, what begins as an innocent distraction can become a dependency, an addiction even. And I predict a common repercussion we'll experience in the aftermath of the Covid19 pandemic.
Matthew 11:28 says… 28 "Come to me, all you who are weary and burdened, and I will give you rest.
This is a familiar verse to me. But, while mindlessly scattering my energy, I completely missed its rich meaning. Rest in this verse is restorative soul quenching rest, not just physical rest.
Shame on me
Even though I am in His word and I talk to Jesus everyday, I'm ashamed to admit that it often takes something monumental for me to crawl into His lap and to admit defeat. To give up. To lean on Him so completely that I allow myself to be restored. That is the gracious rest only He can provide. And from that protected place I'm focused again.
When I focus my energy on pleasing Him, my efforts are simplified and their impact greater, because it's not just up to me. The thing is… leaning on me is only possible, if I'm leaning on Him. Without Him, I can't make a dent. Nor can I be gracious and forgiving to my attackers. I can't carry the weight of the world. And neither can you.
Before you offer help in whatever form it takes, remember that for others to lean on you, you must lean on Him.
GodsGotThis, Debbie Hucke