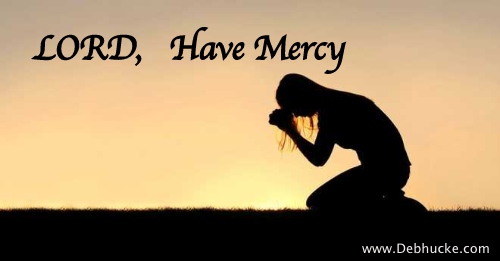 Dear Everybody, We have a serious problem. All of us think we're good and know what is right. But Jesus says we're not and we don't. I'm right beside you in need of His mercy. Sincerely, Debbie Hucke
Romans 3:10b, 11a …"None is righteous, no, not one; 11 no one understands;
Virtue Signaling
Have you heard the term virtue signaling? It has become the heartbeat of social media. And with the necessity of more online communication, its influence and reach has become… pandemic, no pun intended.
Definition — "virtue signaling is the sharing of one's point of view on a social or political issue, in order to garner praise or acknowledgment of one's righteousness from others who share that point of view, or to passively rebuke those who do not."
Sickened
I, like so many of you, was sickened by what happened to George Floyd. Before the national reaction dominated, my emotions ran the gamut. Shock, anger, disgust, shame and heartbreak, to name just a few.
After things escalated, the public response though, has confounded me. I'm not referring to the protests, the dangerous and destructive riots or even the outrage directed at our president. I'm a middle aged white woman, and my heart is heavy. But it feels to me as if a mob stands alert watching me tip toe across a tightrope of empathy. One little slip from their narrow scrutiny of what is a proper way to feel or behave, and I'm toast.
Evil
Our country is in turmoil. To me it seems as if God has peeled back a corner of the sky to give us a glimpse of what we are capable of. And its the evil we humans are capable of that scares me more than any virus. Lord have mercy!
A God-shaped Vacuum
We were all created to crave security, significance and love. (Sometimes referred to as a God-shaped vacuum.) And it's true whether we love God or not. That person that I vehemently disagree with, ultimately wants the same thing I want. Here's the catch… this deep longing in our soul, can only be fully satisfied by the Lord Himself.
Pulling off the good-life
When an unredeemed heart or tough circumstances, or our own self righteous pride clouds the truth of God's sufficiency, we take matters into our own hands. We attempt to bless ourselves. By virtue signaling we escape and feel vindicated and pretty darn good about ourselves. We're teased to think we can pull off this good life.
Did you know that when someone confirms your "rightness" (a thumbs up on your post, for example) you receive a dopamine hit? We become addicted to being right. But just like any other vice, It doesn't last. We'll need another hit.
Self-righteous
A self-righteous person thinks their beliefs and morals are better than everyone else's. And we humans, are self-righteous machines. We think or act the way we want, then go to brilliant lengths to justify it. "At least I'm better than she is. I had a good reason. I'm not as bad as that." If something cracks the foundation of our defense, we double down with more justification.
As citizens of a sharply divided country, from our armchairs, we're the self appointed judges of good and bad. With thoughtful soundbites, we've got it figured out.
But what if Jesus expects, even demands, a different approach?
The Older Brother
Remember the older brother in the prodigal son story? (Luke 15:11-32) This is the brother who stayed home to serve his father while the prodigal demanded his inheritance and left home to sow his wild oats. Even though the older brother didn't do anything blatantly wrong, he's completely lost and not even aware of it.
When the prodigal hits rock bottom he returns home in desperation, prepared to eat with the pigs. The older brother is indignant and refuses to celebrate his brothers return. He's also angry and resentful of their fathers merciful and loving welcome. In the end, it's the older brother's self righteousness that is the most repugnant and deadly.
The Good Friday Criminal
Recall the scene on Good Friday, The guilty criminal hangs next to Jesus with nothing to offer. But because the bad dude humbles himself and acknowledges Jesus, he is promised eternity. "Today you'll be with me in paradise." Wrap your brain around that… the criminal is nearer to the heart of Jesus than the hard hearted older brother who on the outside looks like the good guy who followed the rules.
Truth of the Gospel
Looks are deceiving. The truth of the gospel is… humble yourself, or you die. That sounds harsh, but it's true. Jesus ultimately isn't impressed with our supposed goodness because its not enough; it's never enough. Very few people will give up being right. For the proud, Jesus is the biggest threat imaginable. For the humble He is the securest refuge.
The struggle is REAL
In my view, the battle against our self righteous pride becomes our greatest battle of all; ultimately life or death. Consider all the energy we could save if we gave up all the moral calculus needed to judge good versus bad, right versus wrong. How about we give up the gavel and allow the Holy Spirit to do the convicting and God to administer justice? After all, God is very good at being God. Besides, when we give up His duties, we are freed to humbly rest in His grace. Only then is the pathway clear to actually hear His voice.
But wait!
God, don't you see what is happening in our country, and in our world? Things are urgent. Shouldn't I do something? In my earnest time with Him, the Lord has impressed upon me the necessity to get the order right. Humility must come first.
Psalm 25:9. He guides the humble in what is right and teaches them his way.
2 Chronicles 7:14 if my people, who are called by my name, will humble themselves and pray and seek my face and turn from their wicked ways, then I will hear from heaven, and I will forgive their sin and will heal their land.
Dear Merciful Lord, I come to you on my knees with a repentant heart. The burden to be the moral judge in this corrupt world is heavy. And today, I lay it at your feet. I am dust without YOU and YOUR righteousness. Please help me to see what you see and value what you value. My hearts desire is your promise in 2 Chronicles 7:14. Lord Have Mercy and heal our land.
Debbie Hucke