How are you doing? We've all got something going on and I'm not just talking about the pandemic. I'm talking about all "the other stuff." The other stuff that we try to ignore and smile through. The stuff that nips at our heals but we drag it with us as we carry on.
Not Getting Over It
Me ? I didn't sleep well last night. I received the brunt of an irrational explosion from Ian while helping him with the technology of online college. Never mind the thoughtful snack delivery or reconnecting his wifi. Apparently, after a late night with his 'so called' friend, I'm toxic. Without any explanation of what that means, he hurled the phrase at me liberally. Any attempt to understand was futile. Confused and helpless, I left wearing my new label. With no response to calls or texts, I'm gutted and I can't help but be sad and worried.
I have been here before. The terminology may be new, but the result is the same. I know that hurt people, hurt people and I also recognize the pattern, the ones you love the most, are the ones you hurt the most. Understanding does little to heal my broken heart.
Half-Hearted Prayer
I admit my prayers have been a little half-hearted. Sure I want the ability to move on, but to go to the throne of the Almighty with"this again" seems, well…shameful. Can you relate?
Downplay the little stuff
When crisis is all around, I tend to minimize "my stuff." Because it's relatively insignificant, I'm reluctant to burden my friends, or even God. It's as if I grade my stuff to determine what warrants His attention.
After all, we are still living with this pandemic in a hostile and divisive country. Fires are raging and people are dying. I have friends who are really suffering and I'm sure you do to. In my circle there is cancer, a dying marriage and a loved one who has turned to drugs.
Just get Over It
In the midst of all those worthy concerns my self talk goes like this… Just get over it Debbie. It's just a fight with your kid.
Here's the thing… God is not eager for us to 'just get over it.' He doesn't stop caring about our little stuff just because this world is experiencing big stuff. God doesn't have to prioritize His duties. He can handle all of it, perfectly. Besides that… a hard thing for someone else doesn't invalidate our suffering, no matter how minor. God cares about all of it.
Very simply, God cares about what you care about, because He cares about you.
In 2nd Timothy, the apostle Paul writes a letter from a cold hard prison cell. This is Paul's last epistle before his death, his final words to his missionary friend Timothy. Most of the letter Paul focuses on big stuff —the godlessness in the last days, enduring for the gospel, sound preaching. But then curiously, he gives Timothy a small, insignificant final instruction.
2 Timothy 4:13 "Bring the cloak that I left."
How odd. Why is this included in the living breathing Holy word of the Lord? One chapter earlier we're reminded that…
2 Timothy 3:16,17. 16 All Scripture is God-breathed and is useful for teaching, rebuking, correcting and training in righteousness, 17 so that the servant of God may be thoroughly equipped for every good work.
So then… what is the point of Pauls' final instruction?
I Wonder
My truthful response is… I have no idea. But I do wonder. I wonder if this tiny detail is included to remind us that our little stuff matters— little stuff like a forgotten coat.
Besides… from God's vantage point, everything is little— including a pandemic, a hurricane, or an out of control fire. The question of whether God cares is more about the depth of His love than the breadth of HIs power.
Luke 12:6,7 "Are not five sparrows sold for two pennies? And not one of them is forgotten before God. Why, even the hairs of your head are all numbered. Fear not; you are of more value than many sparrows."
God remembers birds that are sold for pennies. Even though small consequence to humans, they're remembered by God. Jesus tells us we are worth much more than that. Of course God cares! He cares enough to number the hairs on our heads.
It's also true that…
God cares about your disappointment with your kid, your sadness about things you're missing, your hostility towards the president, your frustration with zoom, your argument with your spouse, your bad nights sleep.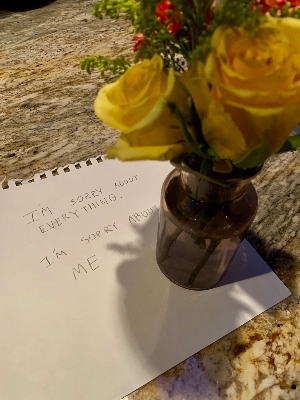 I came home from a special birthday overnight in Santa Fe with this at my doorstep.
Nothing is too big for our Lord. And nothing is too small either. What can you lay at His feet today?
For His Glory, Debbie Hucke