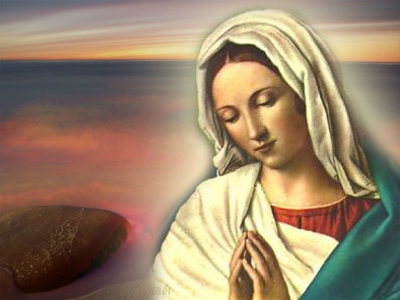 I've heard the story every Christmas since I was a young child. (Luke 1:26-38) But this year, reading it behind the lens of a pandemic, I am in awe of Mary. Mary's life was not only interrupted… it was completely hijacked.
And the way I see it, Mary has a word for us during this unusual advent of 2020.
Isolation and Uncertainty
In an attempt to hide her pregnancy, I imagine Mary was probably self-isolating. And given her scandalous news and Joseph's inevitable struggle to believe her story, Mary's future was undoubtedly uncertain. In a sense, Mary walked the same road we've been on, two thousand years ago. Mary, as a young teenager, faced it too, unwanted isolation and uncertainty.
The Encounter
While excited to be engaged and preoccupied with thoughts of their future, Mary has an encounter…with an angel…
Luke 1:28 "Greetings, favored woman! The Lord is with you!"
Confused and disturbed scripture says, but Gabriel continues.
30 "Don't be afraid, Mary, for you have found favor with God! 31 You will conceive and give birth to a son, and you will name him Jesus."
 Mic drop!  Bombshell! Can you imagine? 
Betrothed to Joseph, Mary must have already had a measure of anxious excitement. I imagine they would have made plans and discussed hopes and dreams. And instead of spending her engagement anticipating their future, Mary had to grapple with the impossible — explain the unexplainable. In one life-altering moment, Mary humbly gave up every ounce of her will.
Mary's Inconceivable Reaction
A virgin birth is preposterous. But the part of this story I find MOST inconceivable, is Mary's reaction.
At first, Mary is understandably confused.
Luke 1:34 "But how can this happen? I am a virgin."
Luke 1:35 The angel replied,"The Holy Spirit will come upon you, and the power of the Most High will overshadow you. So the baby to be born will be holy, and he will be called the Son of God."
So tell me, would that explanation have satisfied you?
Put yourself in Mary's shoes…
If I had been Mary, I can't say my reaction to an uninvited angel with such disrupting news would have been all that welcoming. I would have had some strong words for the messenger. "What the #$%&! are you telling me? And why me? I need to understand, Gabe. I demand answers!"
With no precedent, Mary would walk this new path, alone. She couldn't rely on her mother or even her cousin Elizabeth for guidance. And had no guarantee of how Joseph would react. But this beautiful story climaxes, when Mary humbly agrees…
Luke 1:38 "See, I am the Lord's servant. May it happen to me as you have said."
No argument. No caveats. No resistance.
The God Factor
The way I see it, the only way to reconcile Mary's incomprehensible reaction to Gabriels news is…the God factor.
Her Sovereign Lord made the difference. God was so real to Mary that Gabriel's words brought her comfort. Mary's trust so unshakable, she could step into this calling with confident grace. Her belief so strong that instead of mourning the loss of the life she knew, she felt chosen and privileged.
It's Available to Us
Here's the thing… Because of Christmas, the God factor is available to you and to me. God is not satisfied with being an ala carte item on the menu. He isn't a Sunday special or just a Christmas goody. Because of Christmas, Jesus came to capture your heart and wants to move into your life to make some radical changes. But until you grant Him full access, you'll respond to 'God opportunities' with argument, caveats and resistance.
My Heart, Christ's Home
Robert Munger wrote a powerful analogy called My Heart, Christs Home. (If you'd like to receive a copy of the entire piece, let me know). I quote excerpts here.
According to Munger, One of the most remarkable Christian doctrines is that Jesus Christ Himself through the presence of the Holy Spirit will actually enter a heart, settle down and be at home there. He enters the darkness of a heart and turns on the light.
Munger showed Christ around the house of his heart, inviting him to "settle down and be perfectly at home," welcoming Him room by room.
Finally…unable to keep up the duties of "a clean heart for the Lord to feel welcome" Munger writes…
"Lord, You have been a guest and I have been the host. I took out the title to the house and signed it over. Now You run the house. I'll just remain with You as a servant and friend."
Ephesians 3:16 "That Christ may settle down and be at home in your hearts by faith."
That… is the God factor. As we witness Mary's reaction, giving God reign is not a duty, rather a delight. It is not an exercise in piety, rather a privilege. It's not a sacrifice rather a homecoming.
May we view Advent 2020 through Mary's eyes.
For His Glory,
Debbie Hucke