Have you laughed today? How about yesterday or the day before? When was the last time you REALLY laughed? The self combustible kind that erupts without your control. The deep in your belly laughter you can't suppress even if you tried.
What about fun. What sounds like fun to you? When was the last time you had fun, childlike fun. If these feel like hard questions… I for one, think you are overdue.
Our Escape Hatch
I get it. The current times are serious and the pandemic still constrains us. But if 2020 taught us anything, it's that we desperately need to exhale. We need an escape hatch. Some healthy restorative stress relief.
Life can be hard. And God made provision.
Ecclesiastes Chapter 3 promises that there is A Time for Everything.
A Time for Everything
Ecclesiastes Chapter 3 1 For everything there is a season, a time for every purpose under heaven. 2 A time to be born and a time to die. A time to plant and a time to harvest. 3 A time to kill and a time to heal. A time to tear down and a time to build up. 4 A time to cry and a time to laugh. A time to grieve and a time to dance. 5 A time to scatter stones and a time to gather stones. A time to embrace and a time to turn away. 6 A time to search and a time to quit searching. A time to keep and a time to throw away. 7 A time to tear and a time to mend. A time to be quiet and a time to speak. 8 A time to love and a time to hate. A time for war and a time for peace.
Mom Has Busted Out
Perhaps influenced by our losses of 2020 and thoughts of should-a, would-a, could-a, we have busted mother out of assisted living. Thanks to my sister Diana, mom has moved into her home, to spend time surrounded by the mayhem of family with no plexiglass and lots of human touch. Thankful that Becca is in Pittsburgh and can join us on the weekends, Ian and I are hanging out in Pennsylvania for an extended time to help with mom's care.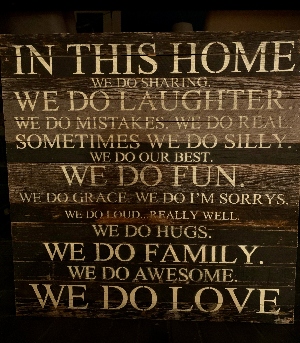 This plaque hangs prominently in my sister's family room. And here for my third day, I've experienced all of it, intensely. Every word of it rings true.
I was delighted to come, but not sure what to expect. Mom has declined and Parkinson's owns her body. She is dependent on help for most of her daily needs. But…life in her presence is not austere. And that has been healing for my soul.
The Transfer
Unable to use her legs, transferring is essential — from bed to soft chair, to toilet, to wheelchair etc. After observing a couple of times, I was ready. With mom's arms around my neck I counted to three to hoist her to standing. We stood together, tightly holding each other up.
With the toilet chair adjacent, I froze. What is the next step? I couldn't release my grip to call for help nor could I remember. Trying not to panic I, reassured mom. "Don't worry mom, I'm strong, I can stand here for a long time… I guess this is proof that I'm the B-Team." And then… mom couldn't help herself. I felt her body begin to gently shake. The rumble grew and I realized she was giggling. Chest to chest, unable to see her eyes I said, "Mom, are you laughing at me?" No response, just more laughter consumed her frail body. Good thing that safety measures were already in place.
After that first transfer and all the giggles, we were both in need of a change. Even though my transfer skills have improved, laughter is still ever-present.
"Good morning mother," I announce as I enter her room. Her wide eyes relax slightly and with a soft raspy voice she manages "good morning sweetheart, happy to see the B-team."
God's Idea
It makes me wonder if just maybe laughter was God's idea in the first place. His provision to lighten the heavy things we carry. After all, He is the creator.
Want to know someone's priorities, look at their calendar. We make room for what matters.
Our Release Valve
Maybe this pandemic which has taken so much already, is messing with our God given release valve. The way I see it, in serious times, fun and laughter is even more important. Perhaps it's time to make it a priority.
I'm reminded of an ocean, a fun-seekers paradise. Still, it demands respect. Going in the water can be dangerous. So it is with our approach to fun.
A Wolf in Sheep's Clothing
We lose our way when we seek more than just refreshment. We drink too much, eat too much, watch too much of the wrong things… all in an attempt to never leave the water, to avoid present reality. Escapism is perverted fun, a wolf in sheep's clothing.
A Spiritual Discipline
In my view it's not always deliberate. I think sometimes our souls become lazy. We go for what is easier, not always what is better. What if we consider fun a spiritual discipline. Since 2021 is still limiting we should take this opportunity for skill development, to get good at having healthy restorative fun.
Yes to some pickle ball, a new recipe, singing in the car at the top of my lungs. Yes to dreaming about my next vacation, to playing in the snow, to a long walk while listening to my book.
Necessary for the Rhythm of Life
Of course our lists will differ. But God created us all to enjoy life.
While Mother is on hospice at the end of her days, it has been our light-hearted banter that has helped me to enjoy and savor this hard, but privileged work. So Mother, what sounds like fun to you? "Not being in pain and seeing my buddy again." A time for every purpose under heaven.
What sounds fun to you? Perhaps it's time.
For His Glory, Debbie Hucke