Week 1: Days 1,2,3,4
WE ARE UNDERWAY!
As of today, we have completed 4 days out of 40. I pray that your devotion time falls into the "so far so good" category. Hopefully, you are getting the hang of the technology that is stretching some of you. I've heard from many of you personally. THANK YOU.
If the first week of this lenten reflection series had a theme it would be PREPARATION. My goal was to lay a foundation for you to have maximum impact for the rest of our forty days together.  Did that happen for you? Do you sense that your communication with the Lord is unhindered? Can you embrace both His Almighty Lordship and His tender care for YOU? It is my hope that week one has provoked you to till the soil in your heart such that planting and growth and fruit can happen. If you struggle with the answers to those questions, please ask a trusted friend to pray for you. If you don't know who to ask, please let me know. It would be my privilege to do so.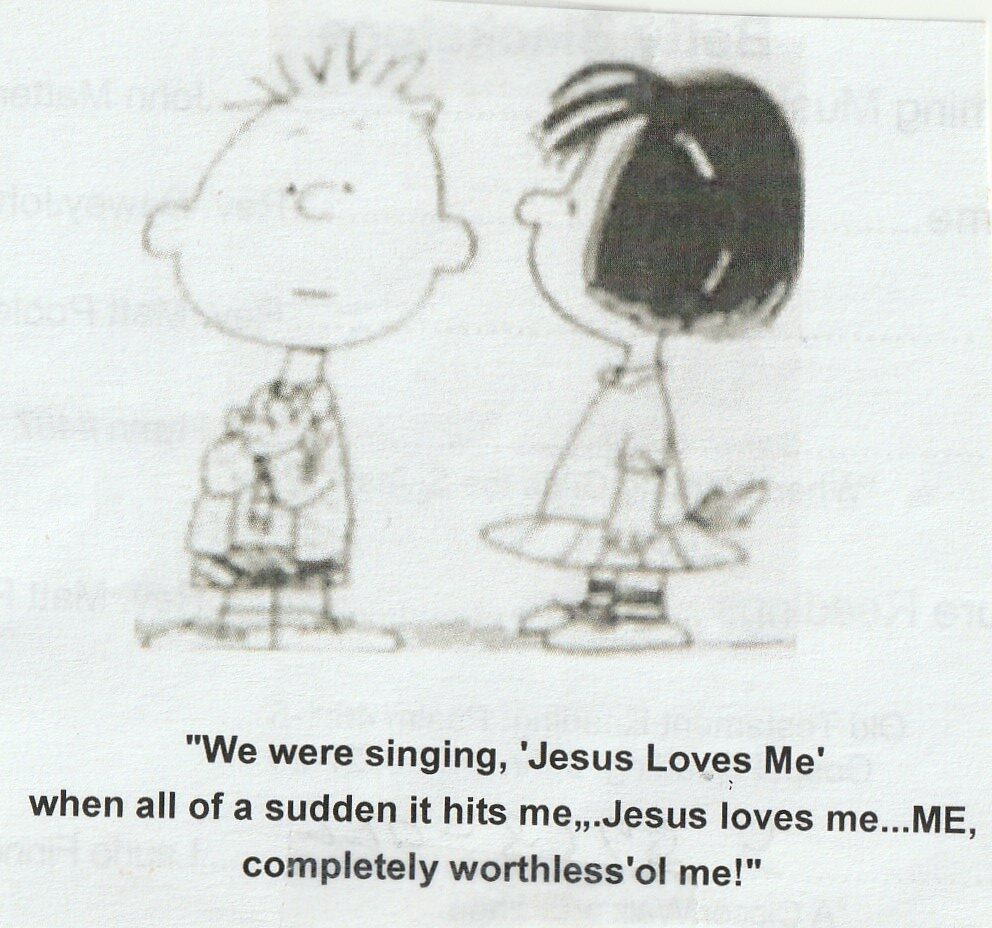 A participant shared this fabulous tattered peanuts comic she has tucked away in her devotional. Too wonderful not to pass along to all of you.
More on Being Still
A participant wonders.. When you are still, what is your mind doing or thinking? Is it blank (thinking nothing) or are you talking to Jesus? Is there a right way to be still?
ANSWER
First, I am NO EXPERT when it comes to stillness. But I have made baby step progress. And I'm quite certain there is no "right way" to be still.
When I begin my time, I remove all distractions. I don't look at my phone, don't pet the cat, don't have my computer open, I pray very simply, Come Holy Spirit and I'm quiet. I attempt to JUST BE. At first, this feels impossible. But in my experience you do get better at emptying your mind. Inevitably what weighs heavily comes to my mind. When it does, I don't rush to ask or solve or do. Instead, I DON'T pray to Jesus, rather just focus on Him and His character, opening my mind to hearing from Him. In the silence, I attempt to have Him direct my thoughts. When He does speak to me, it isn't audible. It is usually just a sense. I hope that helps.
I forgot to reference this recent blog article for reinforcement of Being Still, and Psalm 46:10. MUTE!
If anyone else can share their silence experience, please do.
To leave your comment or question for our lenten community…. simply scroll to the very bottom, beyond any other comments, and you will see a white box labeled… leave a reply. You write what you'd like in the box then hit the tan tab (this color) that says POST COMMENT.
Together, let's approach week two with the same enthusiasm we started with. May the Lord richly bless your obedience to keep your divine appointment.
For His Glory, Debbie Hucke