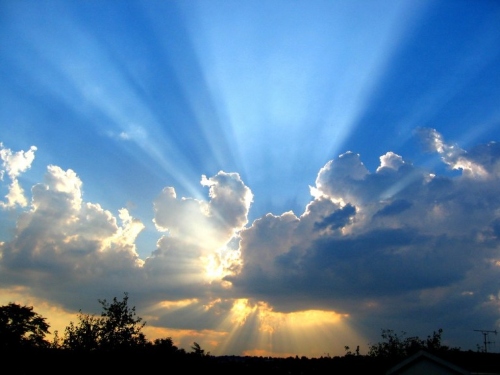 Happy Easter
Coming off of forty days of lent, I'm on a bit of a high. Daily, focused, intentional, prayerful time with the Lord can do that for you. The best part is, I'm not the only one. Other participants in this years Lenten reflection series had a similar experience. Just maybe we've found a silver lining to this strange time.
Rare Contentment
But … this feeling of contentment is rare indeed. Especially now. I'm sure you've noticed it too. The heartbreaking statistics are not just isolated, but are sadly hitting close to home. Anxiety and depression is high and climbing. Just this week in my sleepy neighborhood, the myriad of emergency vehicles left with the somber news that a neighbor with no underlying health conditions… a husband, dad of grown kids and grandkids, took his own life, shocking everyone. And sadly, this occurrence is not all that uncommon.
Everything has been Shaken
The way I see it, virtually everything in our lives has been shaken. And because what we're used to relying on to compensate is unavailable or no longer working… we're off kilter. What's left? What cannot be shaken and what can sustain us? It's not Netflix, alcohol or even exercise, that's for sure.
Jeremiah
During uncertain times a favorite encouragement is from the book of Jeremiah. The book was written to both instruct and encourage the exiles. With all the division and a pandemic that still has teeth, we can relate to those exiles. We too can feel discouraged to the point of despair. We're still constrained in ways we wouldn't choose; we're suspicious of the best way forward, and unity among us seems like a pipe dream.
But in verse 11, even though we can't know the future, the Lord can. And He offers us this familiar promise.
Jeremiah 29:11 "For I know the plans I have for you," declares the Lord, "plans to prosper you and not to harm you, plans to give you hope and a future."
Important Guidance
Before that promise, in verses 4-7 Jeremiah provides some foundational guidance. Jeremiah tells them (paraphrase)… this is what the Almighty wants you to do. While in exile, from Jerusalem to Babylon, build houses, settle down, plant gardens, eat what they produce. Get married and have babies.
Jeremiah is reminding the distraught, displaced and shaken people that their allegiance is FIRST to Almighty God. And He wants them to carry on and LIVE.
I love that… Keep on keeping on. Live. Don't wait for better times. Don't wait to have a renewed sense of control over the situation. Step out in faith NOW by living— building houses, planting gardens, marrying and having babies. To prevent any rumors, the Hucke's are not building houses or having babies, but we are doing our darnedest to carry on and live.
Are you trusting God enough to really live… RIGHT NOW? Remember that your priority allegiance is to the Lord God. The One who is unchangeable, trustworthy, faithful, all powerful, all-knowing and all-loving.
The Silver Lining
You've heard it said that every cloud has a silver lining. We think of a silver lining as a sign of hope or something good to be found in every bad situation. Just maybe our silver lining to these extraordinary times is simply an understanding of and appreciation for the solid rock upon which our life is built.
Matthew 7:24-27 24 "Therefore everyone who hears these words of mine and puts them into practice is like a wise man who built his house on the rock. 25 The rain came down, the streams rose, and the winds blew and beat against that house; yet it did not fall, because it had its foundation on the rock. 26 But everyone who hears these words of mine and does not put them into practice is like a foolish man who built his house on sand. 27 The rain came down, the streams rose, and the winds blew and beat against that house, and it fell with a great crash."
That's it! Faith.
Faith is what's left when everything else has been shaken.
How Practical is Faith in God?
We endure challenging times knowing that temporary suffering cannot overcome God's eternal glory. Temporary conflict can't overcome eternal peace. Chaos among us cannot overcome eternal community. Darkness cannot overcome the light. In this time of so much uncertainty, an eternal perspective is both necessary and heartening. Maybe it even transcends silver. Look closely at the picture above, I notice some gold. Maybe we should think of it as the Golden Lining.
Almighty God, We praise you for your promises. We confess when we're shaken we go to what is easiest and rely on counterfeits. Thank you for the trials of life that reveal what can't be shaken. Help us to put your word into practice strengthening our faith and securing our foundation. Thank you for demanding our priority allegiance. And help us to trust you to carry on and live even while in exile.
For His Glory, Debbie Hucke