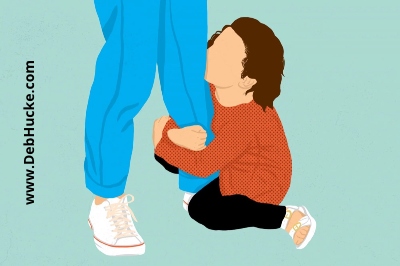 Three+ weeks of Panther camp is in the books. Long, hot sunny days spent with high energy kids who apparently have to go to the bathroom constantly. Ian would know because escorting kids is one of his duties. "I think they're playing me mom," he reports. The bathroom visits are never urgent and include lots of horsing around. Military camp, this is not, thank goodness. Regardless, he comes home EXHAUSTED, but happy. Feeling useful can do that for someone. Even though he falls asleep in the car driving home and one backpack and two water bottles are missing, from what I can tell, he's cutting it. He likes the kids and they like him.
Then …. maybe because I'm glutten for certainty, I did it. I contacted the program director and quipped a brief, grateful things are working out text. And in response, I got an ear full. Dang….not so fast.
Mama Bear Emerged
In that instant… the mama bear was poked. At the risk of sounding disrespectful… it was as if God Himself picked a fight.
After all, the Lord directed us to this opportunity and with it the gift of a hopeful vision for Ian's future. He would creatively work with kids as a stepping stone to live independently. And now, it feels as if that's too much to ask.
Disappointment
Out of respect for Ian, I'll forgo the embarrassing details, but the problems are brain injury related— things like a lack of awareness and appropriateness. While I understand from the school's perspective, my disappointment has been overwhelming.
Did I somehow mis-read God's guidance? How do I remain optimistic while having to address such an uncomfortable subject? Is behavior change even possible without shame or a crushed spirit? While struggling and contending with the Lord, I was drawn to the familiar story in Genesis when Jacob wrestled with God. The entire account is found in Genesis 32:22-32.
Important Backstory
Jacob had been chosen from birth to receive God's blessing, but throughout his life he acted as if it was all up to him. We see time after time he depended on his own scheming, wisdom and skills. Jacob was even willing to hurt others to get what he wanted. Ironically, the very thing Jacob was chasing for himself was the same thing God wanted to give him.
It seems as if Jacob was one of those people who had to learn his lesson the hard way. In spite of his obstinance though, God never abandoned him. Instead, God got Jacob's attention through a strange encounter, a wrestling match. The story climaxes at the moment Jacob was injured. Not until his hip was wrenched, was Jacob receptive to God's blessing; the blessing he'd been striving to achieve all along.
Genesis 32:25 When the man saw that he would not win the match, he touched Jacob's hip and wrenched it out of its socket.
Don't you see it? God is so committed to blessing Jacob, He won't relent. It's an example of God's mercy and how He chased Jacob down. (Psalm 23:6)
I relate to Jacob. I too, can be bull headed. Impatient for my blessing, I try to make things happen in my time, with or without God. Does that ever happen for you?
What do you really need from God right now? Do you need clarity, healing, hope, assurance? What blessing do you want from Him? How badly do you want it?
Wrestling
When God makes us wrestle Him for some blessing, it's not because He's reluctant to bless us, even though that's how it feels. Rather, it's because He has more blessing for us in the wrestling than without it. As we contend, it's as if we're fighting for our faith.
God does show up in the midst of our fear and uncertainty, but not typically how we expect or prefer. Sometimes He shows up looking like our adversary, inciting us to a battle. In my experience, the sweetest and most profound blessings have come after a time of prolonged and even painful wrestling with Him.
Before we discard Jacob as someone NOT to emulate, notice his admirable tenacity. When he did 'wake-up', when he finally got it, he wouldn't let go. Jacob discovered that the wrestling was in fact an avenue for God's grace, a means for God to bless him.
Genesis 32:26 Then the man said, "Let me go, for the dawn is breaking!" But Jacob said, "I will not let you go unless you bless me."
God Changes the Way we Walk
Jacob is proof that when we wrestle with God, He changes the way we walk. (Ha! pun intended.) That's true for us too. When we lean in with expectancy, willing to persevere for God's blessing, He transforms us in the process. God loves to bless tenacious faith. And when we struggle with God in faith, not only does He strengthens us, but He grants us peace.
News from the director at the Menaul School has felt like yet another invitation to that same ole wrestling match. I get tired of it and want things to be smooth and easy. I long for that big red bow tied around an ideal picture of life. But… God is determined to bless me. And His ways are not my ways. (Isaiah 55:8)
Tenacious Faith
Thankfully, like Jacob, I call upon a tenacious faith and refuse to let go. Yep, I will cling to the Lord's pant leg for as long as it takes.
Will you?
Merciful Father, Thank you for Your relentless intent to bless me. I'm grateful for the example of Jacob, because many days it feels like I have to wrestle you, too. Forgive me for my impatience and my preference for the easy road. Help me to trust you even when I can't see my way home. I know it will be worth it. Amen.