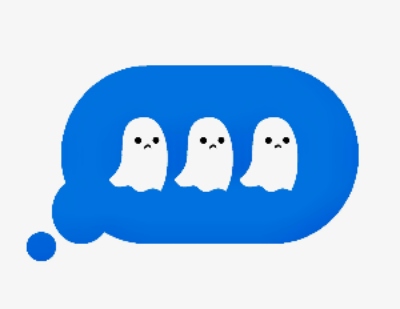 Have you ever been ghosted?  Even if like me, it's a new term to you, chances are, you have been. Or, whether you were aware of it or not, perhaps you did the ghosting. For starters, it has nothing to do with Halloween.  
Ghosting is when someone cuts off communication without explanation or apparent justification. It's typically experienced online which may start innocuously with one ignored text. This thoughtless behavior happens in varying degrees across all relational circumstances. Generally, the one who is 'ghosted' is left feeling confused and hurt. 
No-one Immune
Even though Millennials started the trend, no-one is immune. My first experience happened long before I had a name for it. I know this will shock you (sarcasm!), but… my Millennial kids have, at times, ghosted me. 
Rampant
Social media is often to blame. But I'd suggest it's fundamentally a reflection of today's self-absorbed culture. Online communication demands less of us, less time and less emotional energy. Behind a screen, we're in control; we feel safer and bolder with less need to be vulnerable. The pandemic, fueled by polarizing politics and increased isolation, only exacerbated this fraudulent connectedness. No wonder ghosting has become rampant.  
Perhaps like me, most of your friendships were formed in person over years, and ghosting has not been your primary experience. Hang with me. Recently blindsided myself, the Lord used my experience to shed light on a valuable truth.
It's NOT Harmless
For context, sociologists refer to Millennials as a generation of ghosts whose influence most directly impacts the Gen Xs and Gen Zs. Of course the Boomers who typically parent Millennials are greatly impacted too. This massive affected population has been forced to navigate relationships, replete with ghosters and ghostees and all the baggage they carry. I think we can all agree, it's challenging out there.
Relationships are complex and messy and sometimes, it's just easier to avoid the mess and move on. In a sense, ghosting is the modern day silent treatment often leaving no chance for reconciliation. Sadly, even though the seasoned victim may, over time, become desensitized, the phenomenon is NOT harmless. 
Bewildered
After my recent bewildering experience, I was left with a pile of unanswered questions. Is she ok? Was it me? Something I said or did? Is it because of who I am or to whom I'm married? With no help from my ghoster, I had no recourse but to retreat into my own head to over-analyze and obsess.  I re-traced my steps and considered prior connections in search of any warning signs I may have missed or misinterpreted. 
In the end, all I could do was to move on. But not without realizing I had a fresh wound, a vulnerability I'd need to protect. And just like that, the enemy has a foothold. My once soft penetrable heart has acquired a thin layer of teflon.
Ghosted by God
Have you ever felt ghosted by God? In spite of your repeated requests for answers you hear nothing. Maybe your prayers for direction, confirmation or deliverance are met with dead silence.  Crickets. 
Before you react like you would with your former ghosting friend…
 STOP. RIGHT. THERE.
God hasn't ghosted you.  He has Holy Ghosted you, which changes everything. God doesn't leave us alone to figure things out. He has gifted us with the indwelling Holy Spirit.
1 Corinthians 3:16 Do you not know that you are God's temple and that God's Spirit dwells in you.
John 14:16 And I will ask the Father, and he will give you another advocate to help you and be with you forever.
John 14:6  But the Helper, the Holy Spirit, whom the Father will send in my name, he will teach you all things and bring to your remembrance all that I have said to you.
Romans 8:26 Likewise the Spirit helps us in our weakness. For we do not know what to pray for as we ought, but the Spirit himself intercedes for us with groanings too deep for words.
Wrong Conclusions
We all do it. When God is silent, we make assumptions and draw wrong conclusions.  We don't dare speak it aloud, but we entertain the notion that either God must not care or He isn't all-powerful. So we move on. As time passes, the chasm grows and not depending on God gets easier. Without intention, more layers of teflon cover our heart. 
How can we tell when we've drifted?  Look for the fruit. In our own strength, apart from Him, fruit will not grow.  Any effort to contribute to the Kingdom becomes impotent.
Galatians 5:22, 23 But the fruit of the Spirit is love, joy, peace, patience, kindness, goodness, faithfulness, gentleness, self-control; against such things there is no law.
Stay Close to the Fire
So what's the solution to God's silence?  Stay close to the fire. Spend time. Know His character. Read and re-read His text, the Holy Word of God. Pray for the Holy Spirit to encourage you. And most importantly, resist the temptation to move on because it's a dangerous, cold and lonely place to be. 
He's Got Me
In my experience, the more I know Him, and the more history we share, the more I can trust Him. And the more I trust Him, the more patient I become. I no longer have to face a hard day with my arms crossed over my fragile heart. Instead, I risk it and face life head on with the iron clad conviction that He's got me. 
When my kid ignored my text, and the second text, and the third text, did I move on?  Did I block my child, my heir? Are you $%%$%# kidding me?  On my knees, I became a relentless pursuer.  How much more will the Hound of Heaven pursue us? 
Come Holy Spirit!  Help me to experience God's presence in the silence. Use this time to strengthen my faith, encourage my heart and shift my perspective. Amen.
Debbie Hucke