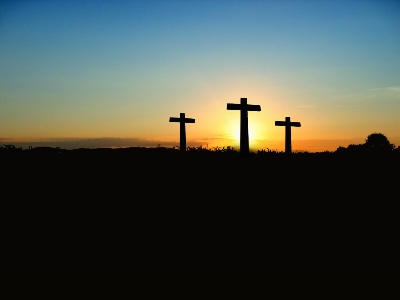 As a young pastor's wife and mom, Easter was difficult for me. Because of Doug's responsibilities, it was impossible to replicate the sweet memories I experienced as a kid. And obviously, we couldn't travel to be with my large family. Easter felt like work, like sacrifice. It was work and sacrifice. I confess that for many years, blinded by disappointment, my Easter joy was shrouded in grave clothes.
Childhood
As a kid, I remember patent leather Mary Janes and hand made Easter finery, including rows and rows of hand stitched smocking. Easter was a big deal. My Daddy, who was always working, was the life of our party. I remember our drive home from Easter morning at St. Paul's Methodist. Still exuberant from the service and its celebratory music, Daddy would boisterously belt "Up from the Grave He Arose." Me and my three siblings would join in with giggles and exaggerated vibrato as we all imitated, even mocked, the talented choir. "Crown Him, Crown Him, Crooooooooown Him Lord of All" sounds pretty awful when those staccato words are the few you recall. We'd stop by the Penn State flower gardens to take pictures, and our afternoon was spent searching for Easter baskets, cooking, eating, napping, game playing, reveling in the joyous celebration of a risen Christ… together.
Decades Later
The Hucke's Easter looked so different. In spite of my desire, it was impossible to make Easter feel like a big deal. Our celebration was subdued. We drove to and fro in separate cars; worshipped apart, Ian and Becca fought just like any other day, and when Pastor/Daddy finally got home, he couldn't hide his exhaustion. His participation was dutiful but brief, eager for a well deserved nap.
Eventually and out of necessity, I adapted. After all, it had always been my issue. Doug's family didn't even go to church and our kids didn't know what they were missing. Over time though, it has felt as if society has ganged up on my Easter longings too — stores stay open, sports practices and games conflict, the school calendar has been no respecter of Holy Week. It's undeniable, the encroachment of culture hasn't slowed. Every year it seems to take more territory. Today it's as if the masses barely even wonder… what is the big deal about Easter?
Have We Become Frogs?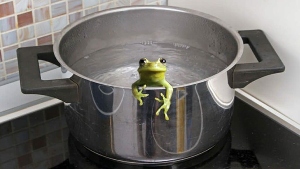 You know the metaphor. If a frog is plunged into boiling water, it jumps out. But if the frog is placed in tepid water and the heat rises gradually, the frog adjusts. Because it doesn't perceive the danger, it will be cooked to death. To point out the obvious our environment/culture/society is the water we soak in.
Since Doug, Ian and I will attend Becca's graduation right after Easter (University of Pittsburgh grad school, Speech Language Pathology), our family Easter celebration will be even quieter with only three of us. What is the big deal about Easter anyway?
Holy Week
Holy Week invites us to focus our hearts and minds on the most important week in the history of the world. The preposterous plot to rescue humanity has been completed. What began at Christmas with a baby in a manger is finished at Easter with an empty tomb. The crescendo of events that occur during Holy Week add to the unbelievable yet perfect solution for all of humanity.
We rewind Holy Week to hear Jesus forecast what was to come. He wanted His disciples to anticipate Easter Sunday as the cataclysmic dawning of true joy.
John 16:20 I tell you the truth, you will weep and mourn over what is going to happen to me, but the world will rejoice. You will grieve, but your grief will suddenly turn to wonderful joy.
Perhaps like me, the story is familiar; so familiar you take it for granted. Perhaps you intellectualize it and recognize its significance for human history. Maybe with great effort, you try to make Easter a big deal with hopes to influence those loved ones who don't or won't embrace it. Perhaps you appreciate that it's true for some, but you still can't quite believe it makes any difference to you. If you're honest with yourself, you may still wonder what is the big deal about Easter for ME.
The way I see it, unless you can see yourself in the story, Easter will never be a big deal. No sweet memories are sustainable enough. No family traditions, or the pomp and circumstance of spectacular Easter services will have enough staying power. In my experience, when you encounter Easter, when Easter invades and takes over your heart, you're undone. You can no longer go along with the notion that Easter is no big deal.
BOTH AND
In my view, the resurrection is both a cosmic event to save humanity, and an intimate encounter that demands our abject humility.
On a walk recently, I listened to a short but profound excerpt from a Scottish pastor, Alistair Begg. It took my breath away and I cried happy tears all the way home. Hear it from him directly.  (under 4 min)
Wouldn't you agree? Easter is a big deal!
Risen Christ, I praise You for Your Irresistible Grace. Forgive me for my pride and vain effort. Thank you for what You have done for humanity. At the same time, help me to grasp that you did it just for me. Because it's tempting to put Easter on the shelf where it's tame, please cause me to encounter Easter. Open my eyes to see my desperate need for Your rescue. Overwhelmed with gratitude and by the power of the resurrection, Your light burns within me. Because He, I can know how my story ends. Redeemed. Eternally Joyful. Amen.
How can I be sure? The man on the middle cross said I could come.
Debbie Hucke