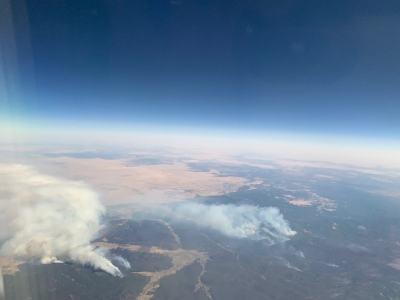 Generally the climate in Albuquerque is spectacular. In fact, for most of the year, we become lulled by our consistent beautiful weather so much so that it's easy to take it for granted. This spring, however, New Mexico has caught national attention. "New Mexico's still raging wildfire, the largest in that state's history, jumped its prescribed burn area, pushed by unexpected erratic winds."
The seasons we enjoy are more appropriately named… Summer, Fall, Winter, Wind. Sure, spring in New Mexico brings what is typical of spring… buds, birds and new life. But it's always accompanied by unpredictable and strong damaging winds.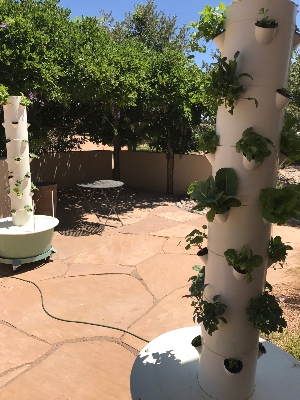 For me, an avid gardener, inevitably each May, I seem to fall for it. Tempted by a lovely, calm, warm day, I presume it's time to move my aeroponic garden outdoors. (I grow greens in a vertical "tower garden" year round). It's a brilliant set up once my plants become established. But as you can imagine, fragile seedlings can't tolerate vicious gusts.
After one such gusty night, I surveyed what was left of my forlorn seedlings when a new subscriber, Mary (not her name), reached out.
Surveying Destruction
She was living through her own disastrous wind storm. And she too was surveying destruction. Desperate, she dusted off her childhood faith when her "one Christian friend" suggested my blog. She didn't think she had enough faith to contain her fire.
When we met on the phone she asked me how she could quell what she called her "damning doubts." She wrestled with small insignificant questions like… Is God really in control? Is He always good?
Ask me something hard I sarcastically thought to myself!?
What I found most troubling was Mary's debilitating guilt. She was angry and ashamed of herself for having such fundamental doubts especially at a time when she needed God more than ever. I was saddened by her sense of despair. As if the Lord was withholding His best waiting for Mary to get it right.
Why do we struggle with doubts?
Is it shameful to have them?
No discussion about doubt is complete without considering "Doubting Thomas." To me it's a little unfair that he is forever saddled with that label. He was certainly not the only doubter!
Maybe I defend Thomas because he responded like I would have— a bit skeptical when asked to believe something preposterous. He needed to see the evidence with his own eyes.
My favorite part of the story was how Jesus responded. He didn't admonish or belittle Thomas. In fact, He made a special visit as if to accommodate Thomas' honest doubt. Jesus patiently showed him His scars. Imagine Thomas' lightbulb moment. I picture him jubilant, wide-eyed and overcome with exaltation.
John 20:28 Thomas said to him, "My Lord and my God!"
Doubt plays a significant role in faith
"always think through what you have easily believed. Your position is not really yours until you make it yours through suffering and study." Oswald Chambers
Having grown up in the church, I innocently accepted the faith of my parents. But… life happened. Forced to contend for MY faith, I've wrestled and questioned. And even though I don't understand it all, my faith has been strengthened in the process. And perhaps only through the process is my faith real, and my own. In fact, Jesus has become more real to me because of life's erratic winds and the uncertainty produced by them. And I bet if you're honest, the same is true for you.
After all…
…unless you need God, He tends to look and act a whole lot like you do.
In my experience, core-shaking doubt is a normal part of this Christian life. Going through such times—not around them—leads to greater intimacy with the Lord which yields a stronger faith.
The Catalyst
Doubt has indeed been a gift. Unfathomable circumstances have left unanswerable questions and forced me to admit, I don't get it and I can't manage it without the Lord. No amount of skill, money, intellect, fortitude or effort has been sufficient. Only when I relinquished control could I know the peace that passes all understanding. Doubt has been the catalyst that has moved me from trusting myself, to trusting Him.
Encouraged
As I've prayed about how to encourage Mary, I think back to how the Lord has encouraged me. During catastrophic windstorms, even though the outcome was not what I would have wanted, His promises have changed my perspective. Time spent with Him has shifted my focus from my lack to His provision and from my weariness to His with-ness.
Isaiah 43:2 When you go through deep waters, I will be with you. When you go through rivers of difficulty you will not drown. When you walk through the fire of oppression, you will not be burned up; the flames will not consume you.
My prayer for Mary is the same prayer the apostle Paul offers in Ephesians 3. Notice that his encouragement is the very opposite of 'get your act together' and has NOTHING to do with pulling yourself up by your bootstraps.
Ephesians 3: 16,17 I pray that from His glorious, unlimited resources He will empower you with inner strength through his Spirit. Then Christ will make his home in your hearts as you trust in Him. Your roots will grow down into God's love and keep you strong.
I think back to my ravaged seedlings. It's no surprise that the plants that survived the erratic winds had the deepest roots. And so it is for us.
Sovereign Lord…God of the windstorm and the calm, We need Your strength, the strength that prevails. Forgive us for losing heart. In the eye of the storm, we pray Holy Spirit for supernatural resilience. By faith we receive it and thank you for it. In the mighty name of Jesus. Amen.