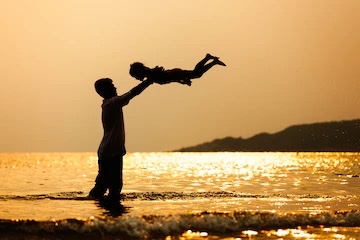 It was a clandestine operation. But the night before the 'final step zoom interview', he couldn't help himself. My extroverted son, confessed his latest pursuit of a full time position in Brooklyn, NY, starting, Aug 1st. (the fact that it was the exact same day we would depart for the UK was not lost on me). Afterwards, like the cat who swallowed the canary, Ian walked taller as if the job was his. Not making any arrangements to move there, just telling everyone he would be… next week.
Reality Blurred
This isn't the first time Ian has blurred fantasy with reality. And, of all my guardianship duties… clipping toenails, calling medicaid, investigating mysterious online charges, bubble bursting is hands down, the worst!
My stunned silence and cool demeanor should have been warning enough. But unsatisfied with my non reaction, Ian poked the bear. "Mom, why aren't you happy for me?"
Without going into the shameful details, it was not my finest hour. If you live in Albuquerque, perhaps you heard me.
Ian's buoyant spirit was undeterred. Defiantly, in spite of my sensible, albeit loud and angry opposition, he would prove me wrong. With battle lines drawn, we retreated to our corners.
Not surprisingly, I felt miserable. Ian accepted my wimpy apology, with "see mom… it will be better for everyone if I just move to NYC." And then I noticed, this simple, one sentence scripture heading the page of my desk calendar as if to mock me.
Colossians 4:6 Let your conversation be always full of grace, seasoned with salt, so that you may know how to answer everyone.
I was 'full of it' all right. But sadly, in that cruel moment, I was full of regret.
He Expects TOO much
Sometimes for me anyway, it feels as if God expects just too much. I don't know if you've ever tried to live out Col 4:6, but it's hard. It's hard when one of the beloved people in your home exhausts the patience allotted for next week and it's only Tuesday. It's hard when you work tirelessly and sacrificially to make another's life better and it goes not only unnoticed, but unwanted.
I suggest you write your own paragraph of, it's hard when…
Still, the scripture says… Always… Full of grace… Seasoned with salt. No different than all the other 'hard instructions' in the bible, hard does not mean impossible. We just can't master them in our own strength.
Deeper Study
Always = all the time, 100 % of the time, never absent even for a moment.  
Full of grace = not just sprinkled with grace, or partly gracious, or grace laced with sarcasm or tone, but filled to capacity with pure grace.
Seasoned with salt = Under the old covenant, not every sacrifice was an animal with blood. God also accepted a grain offering, but only if it was seasoned with salt.  (Leviticus 2:13)
Why salt?
1. Purity
As a chemical compound, salt has an inherent purity and can't change. But salt can be corrupted by what is added to it. God wants every sacrifice brought before Him to come from a pure heart. Sometimes we corrupt what we do for God by adding impure motives. When we care more about our own glory, like being noticed or concerned with what others think about us, our salted offering has been corrupted.
2. Preservation
Salt acts as a preservative by inhibiting microbial growth. Because flesh is naturally prone to spoil, salt cured meat will be preserved. When we come before God, we don't come in our own "spoiled flesh." We come in the name of Jesus, on the basis of His merits not ours. We are thankfully "preserved" by the continual work of God in us.
3. Preciousness
In the ancient world salt, sometimes used as payment, was an expensive, valued commodity. Adding salt to a sacrifice made each offering to God a little more costly, a little more precious. Everything we do, we do as unto the Lord and should be our very best.
And Another Thing
Colossians 4:5 Be wise in the way you act toward outsiders; make the most of every opportunity.
The World is Watching
The apostle Paul, wants us to consider our behavior especially toward non-believers. Obviously, our words and actions don't always discriminate. But to those of us who claim Christ, outsiders watch and listen even more intently. Outsiders want and need to see evidence. Our words and actions testify to the relationship we have with Jesus and the impact He has had on us.
I heard the enemy whisper… "and you call yourself a Christian."
Oh Lord, Forgive me!
Yes, obviously I missed the mark badly on this occasion. But after time in prayer and deeper study, He reminded me that I miss the mark hourly.
And get this…
Even though it was the very thing missing in my exchange with Ian, the Lord granted it to me, instantly, generously and without condition. And He offers the same to you! Grace.
The song Run to the Father by Cody Carnes captures this powerfully.
"I run to the Father I fall into grace   
I'm done with the hiding No reason to wait   
And my heart found a surgeon My soul found a friend   
So I'll run to the Father Again and again And again and again   
Oh, oh Again and again And again and again   
Oh, oh, oh Again and again" 

 

Ian did not get the job. And the moment he learned the news, I was prepared with a soft and gracious place to land. Praise God! Grace has been restored in our home. 
Father God, I am in awe that You're ALWAYS FULL of GRACE. Forgive me especially for the 'heat of the moment' times when grace seems impossible. Thank you for the standing invitation to run to you when I blow it…again and again and again and again. Thank you for Jesus who could have held back His grace, but instead poured out every single drop for me. Compel this truth to interrupt and redirect me. Holy Spirit, May Your grace be what others see pour out of me. Amen.