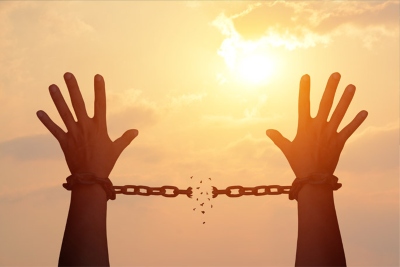 It has been 79 days since I was inspired to publish my Manifesto. If you didn't read it or would like a refresher you can read it here. Manifesto It was a bold public declaration to the Lord of the truth I know in spite of how it often feels. 
As I reflect on this New Year, my manifesto looms large in it's audaciousness.  And even though I have tried, I just can't move on from it.  
Not Much has Changed
Because guess what… not much has changed with my circumstances.  Becca's long visit, Doug's time off, Christmas, even knee surgery and my mother's memorial have all been perfectly timed disrupters. But now that routine has resumed, it's unavoidable. Things with Ian remain hard. With no obvious solution, life feels unfair, messy, complicated and confusing.  
And as frustrating as that is, I know that my weakened dependency is precisely when and where the Lord does His best work.
2 Corinthians 12:10 That is why, for Christ's sake, I delight in weaknesses, in insults, in hardships, in persecutions, in difficulties. For when I am weak, then I am strong.
Have you ever made some sort of a promise to God and then all hell broke loose as if to test your meddle? 
Neon Lights
It's as if the only noticeable change since my public declaration has been the neon blinking lights drawing my attention to that critical caveat. Unless I'm standing on the the solid rock that anchors me, my manifesto is meaningless. Apart from Him I can do nothing.
John 15:5   I am the vine; you are the branches. If you remain in me and I in you, you will bear much fruit; apart from me you can do nothing.
One Word for 2023
For several years now, instead of a New Years resolution, I've found it more useful to identify one specific word for the year. Inspired by the Holy Spirit, the word I'm led to serves as a signpost that refines my focus. With the support of scripture it has been a useful tool.  Smack in the middle of my circumstances, the Lord has used a particular word to enrich me and grow my understanding of Him.  
For me anyway, resolutions are all about DOING. It's up to me and my will power which is inevitably unsustainable. The one word exercise is about BEING and leaning into who God wants me to BECOME.  The bonus is, because real transformation depends on Him, it is sustainable. 
UNCHAINED
This year, after some prayerful brainstorming, the Holy Spirit led me to the word UNCHAINED.
The TRUTH (my word for 2022) is…it's because of Grace, I am free and unchained. Nothing can change that fact. In spite of how chained I can sometimes feel. I'm unchained…
from my circumstances
from Ian
from societal expectations
from my own sin
Galatians 5:1 It is for freedom that Christ has set us free. Stand firm, then, and do not let yourselves be burdened again by a yoke of slavery.
The Apostle Paul
Surprised by this unusual word, I've been drawn to the the apostle Paul and the book of Acts. Scripture points out that Paul's most prolific ministry happened while he was in prison.  Ironically, while in literal chains, Paul's message of freedom went viral.  What a paradox!  
Then…Acts 28:5 arrested me.
Important Context
For the previous two years, Paul had been attacked, beaten and falsely imprisoned. But then, his circumstances go from bad to worse. Soon after Paul and some fellow inmates set sail for Rome, they encounter a fierce storm.  On choppy seas for two harrowing weeks, without food or rest, they fight to survive. Forced off course, they finally become shipwrecked on the coast of Malta.
Can you even imagine? Famished and bone weary, it starts to rain. The warmth of their fire draws out a poisonous viper that latches onto Paul's hand.  (We know it's poisonous because the natives expect Paul to die.)
Discouragement
If there was ever a point in Paul's life for him to be discouraged, that would have been it.  He had endured years of hard.  Challenge after challenge, and then at his lowest point, a viper attacks to finish the job.
Acts 28:5 Paul, however, shook off the creature into the fire and suffered no harm. 
We'd like to think that it's not a fair fight to "kick someone when they're down." But the enemy is no respecter of fair fights. In fact, it's when we're down, that he pounces.
If we're honest, many of us have been walking through months or years of hard.  The pandemic, the division, injustice, loss, sickness, death, … The way I see it, each of us has a personal viper that is trying to sink its teeth into us, to discourage us enough to take us down. What is that dark thing for you?  
Pauls closeness with Jesus, no doubt deepened during years of hardship, prepared him perfectly. Even after that viper sunk its teeth into him, Paul could just shake it off and suffer no harm!  
Shake off that thing!
With Paul as my example, I'm encouraged. It's possible to just shake off that thing. And with His strength, you can too.  
Faithful Father, I praise you for this adventurous life you've called me to.  I confess that more often than not, my priority is ease and comfort. I'm grateful for how you use the hard things in life to prepare me for whats ahead. Holy Spirit, thank you for the word "Unchained" and for the encouragement found in scripture.  Help me to live a big bold life in 2023 unchained while closely tethered to You. Amen.