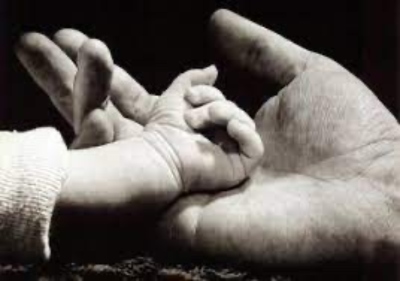 The Lord is up to something big.
Isaiah 43:19 For I am about to do something new. See, I have already begun! Do you not see it? I will make a pathway through the wilderness. I will create rivers in the dry wasteland.
WAITING
When you've prayed and waited and waited and prayed for something for as long as I have, it feels rash to speak any hopeful signs out loud. I think of Sarah and Abraham in Genesis 12. "I will make you a great nation, and I will bless you. I will make your descendants as numerous as the stars in the sky." 25 years later, God's promise was fulfilled when Sarah at 90, FINALLY became pregnant.
A Kingdom Mindset
Still in my situation, about the five year mark of waiting, quietly thanking the Lord for the glimmer of possibility has felt inadequate. After all, cautious self-protection goes completely against a Kingdom mindset. Instead with my mustard seed portion of faith He wants me to boldly proclaim His goodness even before anything specific is certain.   So here goes…  
Lackluster Living
Ever since Ian's life altering accident in Aug 2017, I have prayed for direction. Since I'm not just mom, but also guardian I carry the responsibility to figure out his best life. Other than a brief, somewhat disastrous stint living in the dorms at UNM, Ian has reluctantly lived with us. For Ian living with his parents in spite of the great strides he has made, feels like failure.
We have considered many scenarios for him to move out, but each of them comes with basic safety conditions Ian won't accept. Without consistent employment and problem solving skills, Ian's passionate threats to take matters into his own hands can't materialize. So his resigned and lackluster living perpetuates.
I Want Answers!
Lord, how do I help Ian to improve and mature enough to be able keep meaningful work, work that his TBI demons won't eventually derail? Where can He find purpose? And what about me Lord? This assignment feels like a sink hole because the familiar proverb, you can lead a horse to water… is in full play.
To be honest, it felt indulgent and even selfish to go with Doug on his extended sabbatical because I'd be leaving unfinished business. How dare I take three months to escape? Even though I sensed its critical importance, it felt like it would be a forced pause in Ian's progress, however slow. Ha.
1 Corinthians 2:11b ….who can know the thoughts of God except the Spirit of God.
Impeding His efforts
It has become abundantly clear that the Lord never stopped working. Truth be told, my earnest striving probably impeded His efforts. In Cambridge, absent from the day to day, I accepted the Lord's invitation for intimacy. Instead of focusing on my assignment, and using my energy to solve an unsolvable problem, Jesus simply held me close.
My Daddy
I have a vivid memory of being a squirmy child and having to sit still in church before it was acceptable to bring gold fish and coloring pages. When especially rambunctious, my daddy would hoist me onto his lap. Of course I resisted.  But soon overcome by his strength, I felt warm and safe and loved in his embrace.  He held me and my attention with his thick calloused hands.  Contentment. The minutes flew by and even though I didn't know it at the time, there was no place I would have rather been. 
Noticing Things
Over the past several months while I strain to see any glimpse of forward progress, the Lord has hoisted me onto His lap quieting MY efforts and whispering His promises over and over. Tuned into the Spirit, curiously my heart has noticed things.
Over Christmas for example, Ian and Becca actually got along, and dare I say it, seemed to enjoy each other! Ian's pink toes are a semi-permanent reminder of their fun spa day. Becca confided that Ian admitted to not knowing everything and he showed some deference to her ease in making and keeping friends.
Ian's ever so slight shift in attitude has had a cataclysmic impact on all of us. And I'm excited to tell you the rest of the story.
What About You?
But first I have a question. What about you? Have you been impatiently waiting on God for something? An answer, some guidance, perhaps healing or reconciliation.
The Preposition Matters
During my current season of waiting, I've discovered something. There is a vast difference between waiting ON God for something and waiting WITH God for something.
Imagine in Costco Johnny gets separated from his mother. Even though he is helped immediately, Johnny feels scared and insecure as he waits. He has a sense of lost-ness because he is simply apart from his mama.
That is how it is for us when we wait on God FOR something. Because we assume He is far off, we rally all of our resources to help the cause. Ironically vast efforts and energy apart from Him, don't really help. It's God who waits patiently UNTIL we get to the end of ourselves.
In contrast, when we wait WITH God, we have thrown in the towel, aware of our inadequacy apart from Him. In prayer we engage the Holy Spirit when we listen and declare the truth of who He is. We rehearse His promises and enjoy His presence. We contend with His word knowing its living and active. All the while it's as if Jesus Himself has hoisted us into His lap to hold us close as He waits WITH us, while working within us.
Do you see the not so subtle difference?
I promise to tell you the rest of this amazing story in next weeks installment. But for now,
Numbers 6:24-26 May the Lord bless you and protect you. 25 May the Lord smile on you and be gracious to you. 26 May the Lord show you his favor and give you his peace.
For His Glory,
Debbie Hucke