Popular Jury
That gracious popular jury called everybody, provides such comfort to our guilty hearts.  Last Saturday those judges convened TWICE that I witnessed, on two separate occasions.  Isn't it wonderful to have that jury to call upon whenever we need their defense?  I know I've grown to love their generosity.
The first time
After catching up over lunch with some good friends, we ventured into deeper waters, controversial waters.  We discussed the Catholic church, same sex marriage, and even some politics.  Great thought provoking discussion airing many views, and we remain friends.   Each of us Christians, rely on the bible as our moral compass.  Still, admittedly, our culture confuses our thinking.  As parents of adult children, true for each of us at the table that day, we couldn't avoid the topic of sex before marriage.  This one seemed easy and less controversial.   This one could be exonerated by the jury of everybody.  One friend said it, the defense of all defenses…  Everybody does it.  It is true.  That is fact.  Everybody does it for sure, especially today.   But I admit, I walked to my car unsettled and confused.
The second time
That afternoon, I settled into my favorite tennis watching spot to view the recorded US OPEN tennis final between Serena and 20 year old Naomi Osaka.  The match was hyped and would indeed change history.  Serena coming back from her leave to give birth, was the odd makers favorite.  She seemed destined to her 23rd grand slam title to tie the record.  And Osaka, from Japan, at 20 years old, would become the first Japanese to ever win a grand slam title. 
Glued, the tennis was high quality.  It seemed a bit like David and Goliath.  But shockingly, Osaka not only held her own, but she "played Serena better than Serena" according to Chris Everett.   Serena became understandably frustrated.  Patrick, her coach, caught on camera giving her some hand signals, caused her to earn her first code violation.  And things went down hill from there.  Patrick, interviewed after the match, admitted he was coaching saying, "Everybody does it."    I like Patrick and appreciated his honesty.  But again as he said it, I felt unsettled and confused.  Should that defense carry ANY weight at all?
Reconciling the disconnect
Before I lose anymore of you, I'm not planning to condemn or condone X, Y, and Z. Further, I don't plan to absolve you of any of your 'everybody does it' behaviors.
Instead I'd like to share how I've reconciled the disconnect between the pages of scripture and today's reality.
Fairness
Consider the national T.V. tennis incident.  The issue is fairness, isn't it?  We want consistency.  Patrick, Serena's coach was caught.  And assuming he's right and everybody does it, it seems unfair that he was penalized.
I get it. I'd be frustrated if I was Patrick too. In Patrick's mind, all the coaches are extended mercy, except him. Patrick was singled out to receive justice. Hence, it's not fair. I get his point. And the 'no coaching rule' needs to be changed. But that isn't my focus today.
Before going any further, let me take a moment to debunk some foundational words of the Christian faith.
Justice == Getting what we deserve. Patrick received Justice and he deserved it.
Mercy == NOT getting what we deserve. Patrick wanted Mercy.
Grace == Getting what we don't deserve.    This is the BIG enchilada and your ticket to eternal life.  This is free, undeserved and unearned and yours for the asking,
The Job Jar    
When my kids were young one disciplinary tool I used was the "Job Jar".  This re-purposed cookie jar held many scraps of paper with simple chores written on them.   Take out the trash, set the table, clean the cat box, help your sibling with his/her chore etc.  These jobs were in addition to my kids expected routine.  But there were two extra papers.  One said MERCY the other said GRACE.   I can't take the credit for this idea, but it worked brilliantly to teach these important principles.   Here's how it worked.  Ian hit his sister.  After he apologized he had to  face the job jar.  His justice was to do the chore stated on the paper he selected.   On a rare occasion, he would pick out mercy.   Yay he'd scream.  I'm off the hook.  And he was.  Thank God for MERCY!  And then also on a rare occasion, he'd select GRACE.   Double yay!  Picking the GRACE  slip meant I had to serve him in some way.  Make his favorite cookie, give him an extra 30 min of electronics etc.  Thank God for GRACE.
Wrap your brain around it
Ian is naughty, deserves punishment, and instead he's granted a gift.   That was tough to witness for both the innocent kid and me. It appeared unfair.  Actually it is unfair.  Grace is unfair.  Grace is….. GRACIOUS.   Now, multiply that times infinity and you'll come close to the Grace offered from the Lord.
On one occasion I caught Ian with his hand in the cookie jar, so to speak.  That stinker, ginger kid was searching the jar for grace and mercy.  His plan was to fold the corner or some how mark the appropriate paper to choose it consistently in the future.  OF course I got mad… but the life lesson was invaluable. Ian KNEW he would fall short.  He knew he'd face the job jar again and again.  He KNEW he needed Mercy and Grace.
Except for One
There is only ONE person who has never needed to face the job jar.  There is only ONE person who has never needed the "everybody does it" defense. His name is Jesus.  He was nailed to a cross.  But it's important to know WHY He died that savage death.  He did it, to shatter our need for the job jar for evermore.
Our Inevitable Guilt
Here's the thing.  You may think you haven't been caught.  In fact you may not even be aware of all of your black marks.   But, because God is perfectly and consistently just, He cannot overlook a punishment.   The wages of sin is death.  (Romans 6:23) .   Thankfully, He knows of our inability to prevent constant offenses.  Because of His amazing love for us, He made a way.   Jesus had to die on the cross.  For you and for me.  In doing so, He paid for our sin past, present and future.  All we must do is choose the grace card, not by some low percentage chance of sticking our hand in the jar, but by simply accepting it.  When we do, we receive eternal life — the gift of all gifts.  "but the gift of God is eternal life in[a] Christ Jesus our Lord."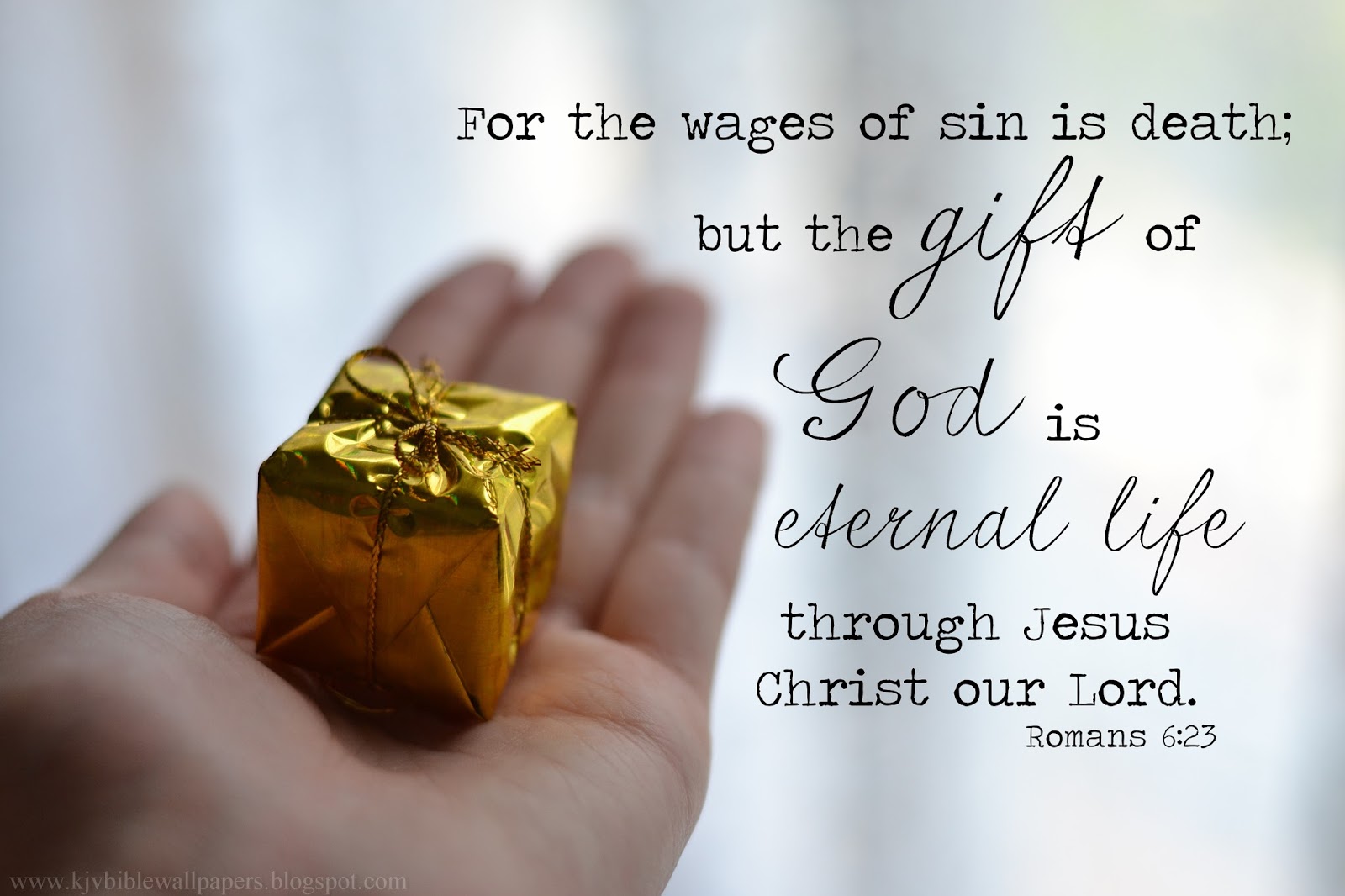 Some may conclude…. Wow, cool beans!  Thanks for the Grace God, Let's Paaaaarty.   
For our Benefit
Know this.  God knows you better than you know yourself.  His word, the scripture, is a guide for your benefit.  Not because He's a killjoy, but because He's a loving Father.  He knows the consequences to your sin.  Obedience is the precursor to real joy.   Even though you may think joining the throngs of everybody is better, more fun, or more whatever… you're wrong.  His way is best. Period. But He's a gentleman. He won't force Himself on you.  In the end, it's your choice.
Romans 6:1 What shall we say then? Are we to continue in sin that grace may abound?"  This verse introduces a tough passage of scripture (vs 1-11) that I don't completely understand.  But Paul's overall point is clear:  When you know Christ, the power sin has over you has been broken.  Those "old nature" behaviors become less enticing.  The Christian life doesn't work as He intended if  you hold onto your sin with one hand while you take hold of Christ in the other.
Today's Reality
How have I reconciled the disconnect between the pages of scripture and today's reality?  I choose grace.  And if I'm outnumbered by the jury of everybody, no matter, I choose grace.   If I disagree with another's behavior, I love her well and point her to His grace.  No one has ever been argued into the kingdom.  Each and everyone of us will face judgement.  "So then, each of us will give an account of ourselves to God. Romans 14:12.   If you've accepted His Grace, NO MATTER WHAT,  on judgement day Jesus Himself, will be your District Attorney.   And best of all, He cannot lose.
I don't pretend to have this Christian life all figured out, but I am certain of one thing.  Like Ian, I'd be digging in that jar franticly for the right slip of paper.  I'm so thankful it's already been granted. GRACE WINS. 
Dear Gracious God, Thank you for your justice, mercy and grace. Thank you for your sacrifice making eternal life even possible. Forgive us for cheapening your atonement by falling for the "everybody does it" defense. Forgive us for judging others instead of pointing them to you. Thank you for your audacious, generous, extravagant, amazing, UNFAIR GRACE.
#GodsGotThis
Debbie Hucke