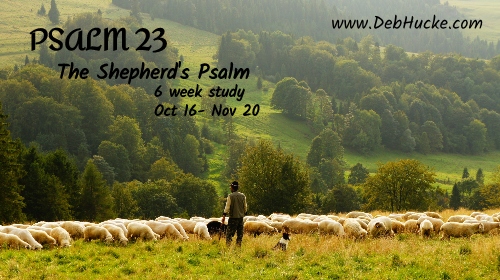 Psalm 23:6 Surely goodness and mercy shall follow me all the days of my life and I will dwell in the house of the Lord forever.
This week we consider the final verse in Psalm 23. I pray you've kept up with your memorization so that the reassuring truths of this passage will also follow you all the days of your life.
The Promise of all Promises
Verse 6 reads like the final crescendo, the ultimate exclamation point, the promise of all promises. I will dwell in His house forever. Say it with me… AMEN!
Before settling in too comfortably, lets stand back a moment and survey the entire Psalm.  In each verse we're reminded of a name and attribute of God.
Names and Attributes of God
Verse 1 The Lord is my Shepherd, I shall not want. Jehovah-Jireh — The Lord, my provider.
Verse 2 He makes me to lie down in green pastures… Jehovah-Shalom — The Lord, my peace.
Verse 3a He restores my soul. Jehovah-Rophe — The Lord, my healer.
Verse 3b He leads me in the paths of righteousness… Jehovah-Tsidkenu — The Lord, my righteousness.
Verse 4 Yea though I walk through the valley…You are with me…Jehovah-Shama — The Lord is present.
Verse 5a You prepare a table in the presence of my enemies… Jehovah-Niss — The Lord, my victory
Verse 5b You anoint my head with oil, my cup runs over Jehovah-Manah — The Lord, my portion
Verse 6 Surely goodness and mercy will follow me all the days of my life and I will dwell in the house of the Lord forever. Jehovah-Cheleq — The Lord, my inheritance
Does that comprehensive list give you pause? It did me.
Our Sufficiency
The Lord is indeed my sufficiency. There is nothing that I could possibly encounter that could throw Him off His game. Gods Got This. And even more importantly, Gods Got Me. Forever.
Let's look at verse 6 in detail.
Surely,
Every word in scripture is purposeful. Don't rush past the assurance we're gifted by the very first word. Surely means absolutely, without any doubt, you can bet the farm on it.
Goodness and Mercy will follow me all the days of my life.
Did you notice that in verses 2 and 3 we were led. Now, in verse 6 we're being followed. Y'all, if you are His son or daughter, He's got you surrounded! How can I be so sure that goodness and mercy will follow me? Because the Lord is with me. The Lord is goodness. The Lord doesn't just show mercy, He is mercy.
The picture I have is similar to my shadows, as I called them, when my kids were young, constantly on my heels. One day I needed to make an important phone call. From the bathroom, behind a closed door, I could hear their giggles. With their bodies plastered against the door when I opened it, they fell forward and jumped to their feet as if to say, "yay, it's mommy, now we can follow her."
Imagine instead of sometimes demanding toddlers Ian and Becca, it was God's goodness and mercy waiting enthusiastically. And more importantly goodness and mercy, don't want anything FROM me, instead they're simply eager to give TO me.
Who are they?
Who are these imposters? God's goodness is His grace. We don't deserve it, but His goodness is in hot pursuit anyway. It's true somedays are just plain awful and God's goodness may seem distant. I've experienced bad days and you have too. We face enemies (as we saw in verse 5) that blur our sight and cloud our judgement. On days like that, I have a strategy. This becomes my mantra.
Every day may not be good, but there is good in every day.
Grace
I have a close friend, Sandy, who became a constant presence during my dark valley. Then, when I began to see daylight she entered one of her own. To this day we continue to challenge each other to look for EGGs as we call them. Examples of Gods Grace. A hot cup of good strong coffee, a sweet text from your college student, a gorgeous sunset. While our circumstances may not change, a shift in perspective makes all the difference.
Mercy
Goodness has a sister and her name is Mercy. Have you ever gotten out of a speeding ticket? Multiply that a thousand fold and bottle it. And even that can't compare to His mercy that covers you for every judgmental thought, every unkind word, and every careless deed for all the days of your life.
The Hound of Heaven
The word 'follow' is a mild translation. The Hebrew word can mean chase, pursue or hunt. I love the picture below. Have you ever heard God referred to as the hound of heaven? He sends His goodness and mercy to hound us. Their constant pursuit will escort us to our eternal home.
Sadly, often because of our shame, or even blatant rebellion, we attempt to outrun goodness and mercy. At times, they seem to conflict with who we are or what we want.  Still, our efforts are futile.  We will be caught.  
Have you been caught?
I vividly remember the day I was caught. Even though I had been a Christian for many years, and a pastors wife for a few, I was still running. What a relief to finally be captured. And now I include that day among the 4 best of my life. (alongside the birth of my two kids and my wedding day)
I still recall the details in full living color.  Overwhelmed by His grace and mercy, I collapsed in His loving arms. It was on that day I gave up and said, "my will is no longer working. Thy will be done." Being a Christian is a good thing. But unless you're caught by His grace and mercy, you won't fully appreciate your eternal home.
When you see grace and mercy flashing their lights in your rear view mirror, slow down and let yourself get caught. You'll be grateful you did. Isn't it ironic…getting caught by the Lord, is the first step to real freedom.
I will dwell in the house of the Lord,
Heaven promises to be spectacular.
John 14:2-4 His house has many rooms and He has a place prepared for you.
Revelation 21:4-6 He will wipe every tear and there will be no more death. He is making everything new.
David understands that all the goodness and mercy that has followed him in his lifetime, has been merely a foretaste of what awaits. He is no longer satisfied simply chatting with his Lord over a cup of coffee. David longs to move in with Him, forever.
I want that too. Do you?
Forever
Forever is a long time. Our minds can't fully comprehend an endless amount of time because everything in our reality has a beginning and an end.
When you repeat Psalm 23:6, I hope and pray you stop and savor forever.
Dear Heavenly Father, I praise you for your sufficiency. Thank you that I'm surrounded! Thank you for your relentless goodness and mercy that pursues me. Forgive me for foolishly running ahead and refusing what you offer. Help me to revel in being caught so I have a deeper understanding of what I can look forward to. Like David, I long to be home, forever. AMEN.