Thanksgiving
Ten inches of pristine fluffy white flakes greeted us thanksgiving morning. In the southwest desert this unexpected dramatic change catches many by surprise. Thankfully Becca had arrived from Texas a day prior and our only challenge was to drive the unplowed roads to UNM to collect Ian. Doug dusted off his cowboy boots because everyone knows they are ideal for trudging through snow. This important occasion would exactly double the amount of times they have been worn because they happen to be so comfy. Still, having lived much of life in Colorado, Illinois and Pennsylvania, all states where snow driving is essential,… Doug had no troubles.
Big family change
Once all together, we each observed the big change for our family this year, is all about hair. Ian is working towards a man bun and for now it hangs long over his ears waiting for better times. And Becca has gone platinum, or is it pink? Their hair has changed but underneath they're the same great kids and I've missed them— raiding the cupboards, leaving their dishes, constant teasing and sarcastic banter, and generally taking over our peaceful empty nest.
Hunkering down
After a complicated holiday season for our past few years, somehow staying close to home through the holidays this year has great appeal. There is something special about hunkering down through the frenzied season. In a sense since the temperatures have dipped, it feels a bit like it's time to hibernate, turn up the fire, stock the hot tea, pull out the the crock pot and settle in for the winter.
It was as if that perfectly timed fresh blanket of snow was the ideal gift I needed. It conspired with me to just slow things down a bit forcing everyone to join my thoughtful pace.
Speaking Assignment
This Sunday I will speak at an event called Advent by Candlelight. I hope to see some of you there. Of course, when asked, I agreed readily when it was way off in the distance and seemed like a reasonable, even good idea. Now that it's close, my heart is beating faster. What could I possibly say? Everything has been said, advent happens each year, and Christmas follows without fail. Wash. Rinse. Repeat. B-O-R-I-N-G.
God is the same
Then it hit me… Thank goodness advent is the same, because God is the same. There it is, the promise for every changing season, through every different hair style, and in spite of every passing year — He is the same, yesterday, today, and forever.
Hebrews 13:8 Jesus Christ is the same yesterday and today and forever.
Malachi 3:6 "For I the Lord do not change…
Change
Constant change is life's guarantee. Every one of us must continually adapt to change. Nothing is static. Our body ages, our health changes, our family expands and contracts. Even our community, our country and our world is in perpetual change.
Sometimes we like change
I like to think I'm a fan of change — trying new restaurants, traveling to new places, wearing my new boots and even the change of seasons. But just because I like changing my wardrobe, doesn't mean I like it when things change unpredictably.
In fact, I am a fan of change until … I'm not. That's it. I like change on my terms. I'd venture to say that's true for you too. All too well I remember the forced changes that caused me to grumble— an injury that sidelined me from playing tennis, a cancelled flight that messed up my vacation, or even when my grocery store 'Smiths' stopped accepting Visa. And then there are the big, life altering, scary forced changes.
Make it STOP
Life is perpetual change. It is as if we are on a merri-go-round, and advent is our chance to say, stop, let me off! It's true that during the holiday season, more than any other time of year, the merri-go-round, just picks up steam. Traffic is worse, the stores are crowded, the bank account is stretched and people seem stressed, anxious and hurried. Chaos.
Then in the midst of the frenzy there is no respite from the weighty stuff. In fact it seems as if it all becomes even more magnified. Strained relationships, persistent health challenges, worry about people I love, the scary unknown of the future.
Relief
For Christians there is relief. Advent. The word advent means 'coming.' During advent we remember and we wait. We remember the day, over 2000 years ago, when God sent hope, wrapped in human flesh, swaddled in a manger. During advent we also wait with expectancy and prepare for His triumphant return. The story begins with a baby in a manger, but thank God that is not where the celebration ends.
Amazing. Remarkable. Miraculous. You pick the superlative. Even so, do you feel conflicted? You love Christmas and all it represents but you can't seem to get off the merri-go-round?
Nutcracker
Recently, Becca and I got to see the Nutcracker. The entire performance was entertaining, but it was the dance of the sugar plum fairy that had me mesmerized. Spinning, spinning, spinning while making it look completely effortless. Do you know how that is possible apart from incredibly strong muscles, years of training and millions of blisters? It's all about her gaze. Her center of gravity must remain laser focused or all momentum is lost.
Luke 14:22-33
I'm reminded of the story of Peter, the fisherman, in the passage of Luke 14:22-33. My paraphrase…. Peter sees a vision of what he thinks could be the Lord, walking on the water. The sight fills him with fear until the Lord reassures him. Then to make his point, the Lord tells Peter to come.
And Peter does. A regular 'Joe' like you and me, steps out of his boat and with his eyes fixed on Jesus, walks on water. Can you imagine? A miracle for sure. It isn't long though and Peter sees the wind and is afraid. And… no surprise…begins to sink…
I can so relate to Peter. Everything is hunky dory, my eyes fixed on my Lord, and then I see the wind, and I sink.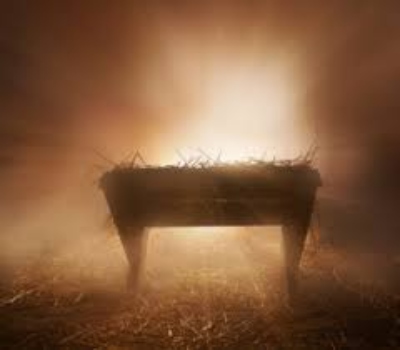 This advent, let's learn from Peter, and take our cue from the sugar plum fairy, no spinning required. With all of it… the wind in our own life together with the chaos of the season… let's keep our gaze on the manger.
Because from that lowly place…
The Light of the world has to come to us.
Isaiah 7:14 14 Therefore the Lord himself will give you a sign: The virgin will conceive and give birth to a son, and will call him Emmanuel.
Emmanuel means God with us. Because not only does He come, He also stays. He is the One who comes to us. He is the One who stays with us. And He is the One who is coming back for us.
Keep your gaze on the manger.
Debbie Hucke