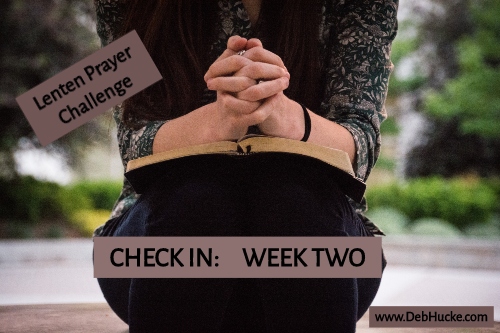 How is your prayer time going for Week Two?  Is it feeling more natural? Do you sense some continuity from one day to the next? Do you find that you're beginning to look forward to the time? What insights, A-HA moments, or revelation have you gained?  Has any verse in particular stuck with you all week? Please share with all of us.  Your progress becomes encouragement for another.
One Pray-er shared this video clip. I promise as you watch it, you'll feel a sense of JOY.
If you missed any days this week… here they are below.
DAY 5 Corrected
OOOPS. It was brought to my attention that the 40 days in Lent exclude Sundays. (I wondered why our forty days of prayer emails ended on Palm Sunday.) I've decided to course correct. That explains why you've received 2 day 5s! Bonus! On Sundays I'll continue to use as Check In days, but no prayer email will go out on Sunday. Thanks for understanding my mistake.
Isaiah 40:31 (NIV) "But those who hope in the LORD will renew their strength. They will soar on wings like eagles; they will run and not grow weary, they will walk and not be faint."
Reflect on your "circle". Has it caused some weariness? Take encouragement from this promise in Isaiah. For perspective, imagine being an Israelite and wandering in the wilderness for FORTY years.
Often I find it helpful to read a scripture in different translations. Notice the slight differences — HOPE,TRUST, WAIT. Write down the version that you prefer in light of your circle. Also pay attention to your assignment and God's promise that will follow. If I do this… God promises this.
Isaiah 40:31 (NLT) "But those who trust in the LORD will find new strength. They will soar high on wings like eagles. They will run and not grow weary. They will walk and not faint."
Isaiah 40:31 (AMP)"But those who wait for theLord[who expect, look for, and hope in Him]Will gain new strength and renew their power;They will lift up their wings [and rise up close to God] like eagles [rising toward the sun]; They will run and not become weary, They will walk and not grow tired.
Isaiah 40:31 (MSG) "But those who wait upon God get fresh strength. They spread their wings and soar like eagles, They run and don't get tired, they walk and don't lag behind."
Dear God, I praise you for your provision in light of my weariness. Forgive me for whining and complaining without resting on your broad shoulders. Thank you for this promise. I claim it and ask for you to renew my strength.
______________________________________________________________________________
DAY 6,
Mark 9:23-25 New International Version (NIV)22 … But if you can do anything, take pity on us and help us." 23 "'If you can'?" said Jesus. "Everything is possible for one who believes." 24 Immediately the boy's father exclaimed, "I do believe; help me overcome my unbelief!" (For the entire story review Mark 9:14-29)
I LOVE this passage of scripture. Perhaps because I relate to this desperate father. Picture it, a dad has one child, a son, who has severe epilepsy. He desperately wants his son to be healed. The child is thought to be demon possessed. The scripture is quite graphic. (The boy is knocked to the ground and is thrown into a violent convulsion and keeps rolling on the ground, foaming at the mouth.)Can you imagine? And this has been happening since his birth.
I picture the exhausted father, deep bags under his eyes, aged beyond his years and barely able to function not knowing what to do. The story climaxes with the father's plea…I do believe; help my unbelief.
Have you pleaded with God for something for a long time? Have you prayed and prayed and prayed and not received the answer you've wanted? And then… doubts creep in. Is it possible to be filled with faith and doubt at the same time? I believe the answer is most certainly yes. You can have faith that God can do something and still be scared to death that He won't. The desperate father brings God what he has. Which is not very much faith. In the same breath, this loving father professed his faith; he also confessed his doubt. Haven't we all been there? We believe in Jesus' power, yet we struggle to believe He can come through in our particular situation.
Dear Jesus, We praise you for loving us when we doubt. When answers don't happen on our timeline, we lose our way. Thank you for using what little faith we offer. Please help our unbelief.
#GodsGotThis Debbie Hucke
______________________________________________________________________________
DAY 7,
Jeremiah 29:11-1411 For I know the plans I have for you," declares the Lord, "plans to prosper you and not to harm you, plans to give you hope and a future. 12 Then you will call on me and come and pray to me, and I will listen to you. 13 You will seek me and find me when you seek me with all your heart. 14 I will be found by you," declares the Lord, "and will bring you back from captivity. I will gather you from all the nations and places where I have banished you," declares the Lord, "and will bring you back to the place from which I carried you into exile."
This is a favorite verse for just about everyone. We see it on graduation cards, tee-shirts and coffee mugs. It's a "go to" scripture of hope. It's a promise we claim when hurting and desperate. We like to remember our favorite part and ignore the rest. I don't want to burst your bubble, but it's important to understand the context. In Jeremiah 29:11 the YOU is plural and was written to the Jews exiled in Babylon. God had promised to bring Israel back. The exiles could be assured that they had a future and a hope. This promise was not made to all nations at the time, but only to Israel. Israel was set apart.
Sooooo does that mean Jeremiah 29:11 has no application for us? NO. The way I understand it, the promise applies to those of us in Christ, not to the entire human race. Those of us in Christ are set apart. In other words, if you are in Christ, you are like Israel and God promises you a hope and a future. The caution for applying this verse is to trust the Lord with His timing. Our time here on earth is like a millisecond as compared to eternity. Our hope and future IS secure. But our deliverance may not happen til eternity. In fact, Jeremiah 29:10 says …This is what the Lord says: "When seventy years are completed for Babylon, I will come to you and fulfill my good promise to bring you back to this place. Seventy years. Can you imagine? Generations. Carefully read the rest of this passage and consider your responsibility even in your despair. Here's the thing that I am certain of…IT WILL ALL BE WORTH IT. It was worth it for the Israelites that waited seventy years. And it will be worth it for you too. To dig deeper I've expanded on this passage in my blog article, I Want some of That.
______________________________________________________________________________
DAY 8,
Matthew 17:20 (NIV)20 He replied, "Because you have so little faith. Truly I tell you, if you have faith as small as a mustard seed, you can say to this mountain, 'Move from here to there,' and it will move. Nothing will be impossible for you."
Reinforcing yesterday's scripture in Mark, this passage suggests the power of even a little faith. Do you ever feel inadequate with your little faith? Does it stall your forward progress? The way I see it and according to this scripture, moaning about a little faith is like placing a single mustard seed on your counter. You stare at it; You worry about losing it; You may even wonder what it could become. Jesus is saying…PLANT it for petes sake. See what I can do with what little you have.
A mustard seed looks totally insignificant, just one or two millimeters in diameter. But when planted in fertile soil can grow into something significant. I recall the seven weeks of hell we endured while Ian was in a coma. My mustard seed sized faith faltered. But I relentlessly showed up in prayer. And because He is faithful, He moved mountains. Your prayers are seeds of faith. Consider this…Even when you die, your faith does not. After you are long gone, your seeds of faith could impact generations. I am not overstating this. I think we underestimate the God who is able to do immeasurably more than all we can ask or imagine. For further study…This scripture comes from one of Jesus' many parables. The entire account can be found in three of the gospels. Matthew 13:31–32, Mark 4:30–32, andLuke13:18–19.
Dear Jesus, I praise you that NOTHING is impossible for you. Forgive me for whining about my wimpy faith. Thank you for taking whatever I have to offer and multiplying it exponentially. Please help me to realize the importance of investing my faith in You. Please use my faith to work powerfully in my circle. For your Glory, God. Amen.
______________________________________________________________________________
DAY 9,
Philippians 4:8 NIV 8 Finally, brothers and sisters, whatever is true, whatever is noble, whatever is right, whatever is pure, whatever is lovely, whatever is admirable—if anything is excellent or praiseworthy—think about such things. 9 Whatever you have learned or received or heard from me, or seen in me—put it into practice. And the God of peace will be with you.
Philippians 4:8,9 MSG 8-9 Summing it all up, friends, I'd say you'll do best by filling your minds and meditating on things true, noble, reputable, authentic, compelling, gracious—the best, not the worst; the beautiful, not the ugly; things to praise, not things to curse. Put into practice what you learned from me, what you heard and saw and realized. Do that, and God, who makes everything work together, will work you into his most excellent harmonies.
Philippians 4:8,9 (NLT) 8 And now, dear brothers and sisters, one final thing. Fix your thoughts on what is true, and honorable, and right, and pure, and lovely, and admirable. Think about things that are excellent and worthy of praise.9 Keep putting into practice all you learned and received from me—everything you heard from me and saw me doing. Then the God of peace will be with you.
To understand the richness of this passage I've included several translations.
If the enemy can control your mind, he's got you.
Especially if you're a worrier, this is a helpful scripture to commit to memory. Even if you don't recall it completely, the first phase provides a helpful RE-DIRECT. To see how I used it, check out my blog article Grace from the Chairlift
Dear Jesus, I praise you for your involvement in my life even when I'm not aware of it. Forgive me, for entertaining those tapes that play in my head. They start as a small ember and before I know it, they sometimes become a raging fire. Thank you for the Peace you promise. Please help me to drench those thoughts with your truth.
For further application of this scripture, here is another article. His Perfect Peace Refresher Course
______________________________________________________________________________
DAY 10,
1 Thessalonians 5:16-18 16 Rejoice always, 17 pray continually, 18 give thanks in all circumstances; for this is God's will for you in Christ Jesus.
As we have been praying through this lenten season perhaps your circle has evolved. If it has, maybe it's because you're listening to Him and He is conforming your thoughts to His will. God's will can be such an intimidating thought. What in the heck is God's will? How do we know what it is?
The Apostle Paul makes it quite clear in today's scripture passage from 1 Thessalonians 5:16-18. "Rejoice always, pray continually, give thanks . . . for this is God's will". This is an explicit description of what God's will is. To be in the center of God's will is to be a person who is joyful, prayerful, and thankful. Ask yourself, am I joyful, prayerful and thankful?
We cannot control our circumstances, but we can control our reaction to them. Notice that this scripture doesn't say we're to be thankful FOR our circumstances. PHEW! But we can look for things to be thankful for. For a better understanding of how this can work, read my blog article It was Just a Question
Here is an idea… for one day try this, I plan to. What is something you do often? I'm guilty of playing candy crush on my phone. Don't ask me what level I'm on. It's mindless and I usually do it when I'm waiting. For one day instead of candy crush, I plan to pray. If you try this exercise, I'd love to hear how it worked for you.
For me, when I'm in the thick of challenging circumstances, prayer is a practical first step. When I'm in continual prayer, I find my joy and my thankfulness both impacted. To understand more of the benefits of continual prayer, read this article A Trickling Faucet
______________________________________________________________________________