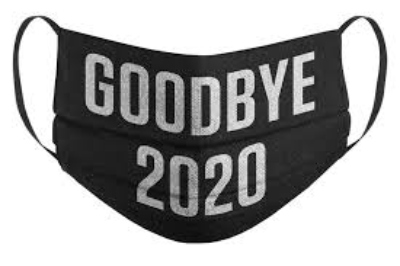 Our family of four will escape for some desperately needed time away. Somewhat off the grid. I haven't spoken the words aloud to many, not wanting to jinx it. I've lacked confidence that it could happen. Or would happen. Our flight arrangements have been changed by the airlines three times. But with trepidation, we will kick off 2021 in Nosara, Costa Rica where our neighbors will be toucans and monkeys, not wearing masks.
2020 in the Rear View Mirror
I, like so many of you, will be very glad to see 2020 in the rear view mirror. It has been a hard year, an emotional year. And this Christmas has felt especially heavy. This year has been full of dying moments. Loss upon loss of loved ones, relationships, events, life as we knew it. At times it has felt too much to bear. Our natural human tendency is to strive to clean up the exterior, smile and press on. But in my experience, it doesn't work that way.
The Process of Loss
When mourning a loss of any kind, we experience grief. While it may differ in degree it applies whether it's the loss of a loved one, the loss of your health, the loss of your business, the loss of a dream or even the loss of the energy to keep on keeping on. And grief is like thin ice. We walk on it gingerly, hoping to make it to the other side. But its fragility is unpredictable. Grief will grip you without warning. It consumes your mind and demands your attention. When ignored, the weight of the burden will take you under. In that moment you can't move on. You get stuck in the yuck of what was.
What Can We Do?
How do we cope? How is it possible to leave the 'dying moments' the losses, the disappointments, the dark clutter of 2020 behind?
Remember the familiar 23rd Psalm? Tucked away in verse 5 is the key for me. I invite you to re-read my entire article. A Place at the King's Table.
Psalm 23:5 You prepare a table before me in the presence of my enemies; You anoint my head with oil; my cup runs over.
An Invitation
Jesus invites us to sit at a table "in the presence of our enemies." Those enemies are our 'dying moments,' those burdens in our lives that threaten us and steal our joy. Positive thoughts can't shoo them away and our busy schedules don't erase them.
The truth is, we can't rid them without the Lord's intervention. They will lurk in the shadows UNTIL they are are brought into the light. And when they're brought to the light, slowly and surely He transforms them, redeems them. Re-purposes them for good.
As you turn the page of the calendar to a New Year, I invite to spend time at the King's table. Allow the Lord to redeem your losses and carry you across the ice into 2021.
That is my plan. See you on the other side.
For His Glory, Debbie Hucke
P.S. There may or may not be a blog article next Wednesday. As you spend time with the Lord in prayer this new year, I recommend that you consider a word for 2021. If you'd like some direction from Dayspring … take this short quiz to learn the word they recommend for you. Word for 2021​