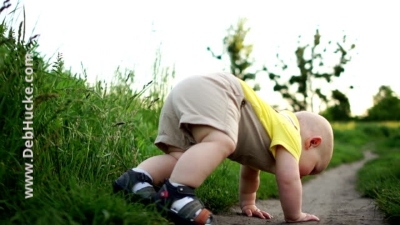 Darn it, it happened again. Discouraged by recent events in my family, I have gone dark and found myself wandering in the wilderness. Aware that I'm bad company, I've spent lots of time alone in a place of dissonance. A place where I've allowed my feelings to rule the day, knowing they conflict with the truth. It has felt as if somehow God's goodness has waned and I've needed time to wallow. This pity party, lasting way too long, is no party and has sucked the joy out of life.
Discouragement
As much as I've tried, I can't avoid the topic. Discouragement has dominated my thoughts and I'm keenly aware of the Lord's urgent desire to address it. I've looked back at my body of writing and it's interesting to realize that discouragement and similar themes have cropped up many times before. Related topics have included — Disappointment, Wilderness, Adversity, Brokenness. And I can't help but notice that in every instance, I didn't stay down. While each situation was unique, I was able to restore a hopeful perspective and eventually experience what we KNOW to be true. Mercies ARE new every morning.
So… with some feeble resolve, I'm compelled to write about the process of getting back up again. AGAIN.
Hard Things
No-one gets a pass from life's hard things. But I've discovered that those hard things are what the Lord uses to mold me and make me.
I don't like to admit it, but I'm a much better listener when life is hard. When life is easy and things work out the way I want or expect, I have all kinds of answers. But in the broken places of life, I get quiet, I get desperate. I don't choose to be there, but… it's a beautiful and surprisingly fruitful place to be.
And that is where I am, waving the white flag of surrender.
Visit with Mother
The day Ian lost his job I was traveling to see my mother in the late stages of Parkinsons, on hospice. Even though she's immobile and fatigued, our time together was precious.
In Ecclesiastes 7:2, scripture suggests, it's better to go to a place of mourning than a party. What a curious thought.
But during my visit with my 'ready to meet Jesus face to face Mother', the Lord gave me fresh insight. It's true that a place of mourning is often a sobering reminder of our own mortality. But there's more to it. Circumstances that bring eternity into view are profoundly important.
1. Perspective
No wonder my unexciting time with mother was even more significant than when she was 100% healthy. The shift in perspective changed everything. With eternity in clear view, no time, touch or conversation was trivial.  
Colossians 3:1,2…set your hearts on things above, where Christ is, seated at the right hand of God. 2 Set your minds on things above, not on earthly things.
With my mind reoriented to things above and gifted with a shift in perspective, I still dreaded returning home to face my own stuff. But I felt different, a bit lighter. Back in the company of the problem solver, I was no longer helpless.
2. Pray 3. Identify the Adversary
I prayed about it all… my sadness for Ian, my fear for his future, my confusion about next steps and my burden to figure it out.
I sensed the Lord guiding me to identify my adversary. Who can I blame for this dark discouragement? Was it the principal who prematurely hired Ian, or the school who fired him, or the driver who caused his TBI or God who allowed it all?
While wrestling with all those thoughts, I had to confess… my real enemy was THE enemy, the father of lies. Isn't that always where doubt begins? 
When the serpent seduced Eve away from God, he didn't hit her with a stick, to quote Dallas Willard, he hit her with an idea — an idea that caused her to question God's goodness and faithfulness and prompted her to take matters into her own hands.
Ok… I get it. I took the enemy's bait and entertained his lies. So what now God?
4. Fight back with Truth
I looked to Jesus when He was tempted in the wilderness. He didn't shake his fists at the enemy, He quoted scripture. He went on the offense with the truth.
Ephesians 1:18 I pray that the eyes of your heart may be enlightened in order that you may know the hope to which he has called you …"
5. Hope Restored
God has been near. With lovingkindness, He has assured me that it's ok to be tearful while I carry my sword. He has comforted me with little encouragements. Encouragements that I could only notice while in His company. And because it's not up to me, my hope has been restored.
Discouragement / Hope Recovery Checklist
1. Check perspective. Am I focused on the problem or the problem solver?
2. Pray and listen for His guidance.
3. Identify the adversary and his lies.
4. Take the offense with Scripture
5. Hope Restored
Here's the thing. Nothing has changed with my circumstances. But with the eyes of my heart enlightened, I can see daylight. I'm hopeful again as I stand securely on the promises of God.
Psalm 27:13 I remain confident of this: I will see the goodness of the Lord in the land of the living!
Dear Father of Hope, Forgive us when we allow discouragement to fester. Thank you for giving us an infinite number of chances to get this life of faith right. Please help us know the power of Your word and to use it offensively to fight the enemy. Remind us of Your promise to redeem our entire story, especially the dark chapters we'd rather skip. Our hope is in You as we wait to see Your goodness in the land of the living. Amen.