After a week at the beach, we would spend the final four days in the Costa Rican mountains. An acclaimed vacation planner, I had done my research. Our family would experience Costa Rica. There would be splurging and fun, beach and mountains, relaxation and vigorous hiking and lots of yummy food. According to "Travel Costa Rica," the best time to visit the Arenal Volcano region was in January, the dry season. Check.
Our extravagant mountain rental was 800 square feet of ideally positioned property built on a crest. The floor to ceiling windows exploited the jaw dropping view of the rainforest that surrounded Arenal lake. The porch allowed us to spread out and with no neighbors it was as if we were invited guests to nature's playground.
The Catch
Before you are tempted to use me as your vacation planner, there is one teeny tiny, but critical catch. I am not God. Neither is Travel Costa Rica. Feeling euphoric having arrived in time for a spectacular sunset, fourteen hours later we woke to unexpected and unwelcome heavy rain. 800 square feet seemed to shrink and the now unprotected porch had lost its appeal. We became poor suckers, overnight.
Disappointed, I looked out at the angry clouds. A dense fog covered the landscape and I felt small. To quote my husband Doug from his days as a  gymnast… I went from stud to pud. Last night my family praised the planner. This morning… they were still in bed unwilling to face a new reality.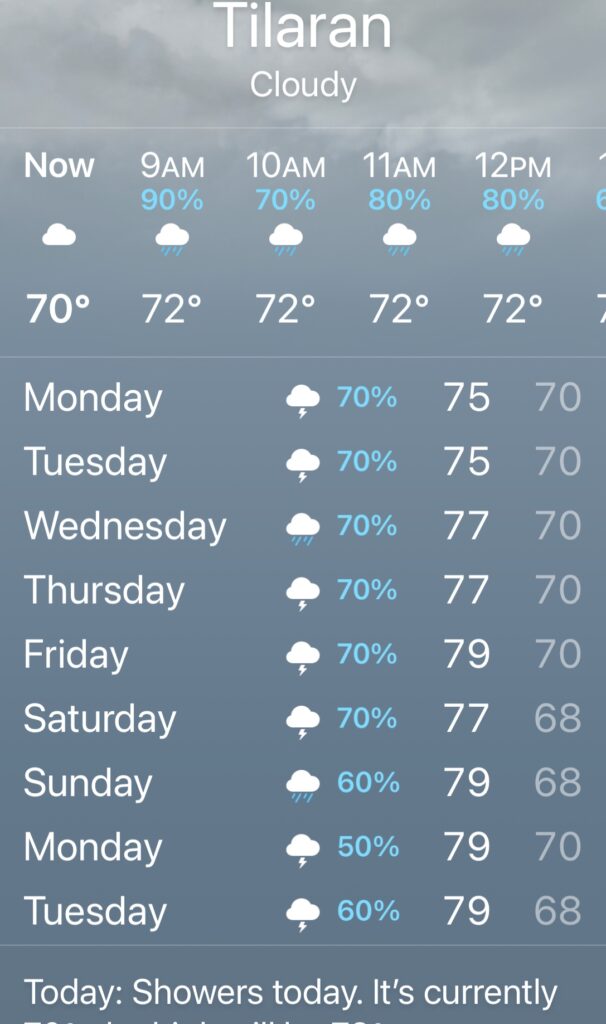 With a monkey wrench wedged into our packed itinerary, I tried to re-arrange our plans. But… there was no relief in sight. RAIN, Rain and more rain for the next week.
No longer hurried to take on the day, my thoughts turned to God. Wanting some reassurance, I looked for verses about God's attentiveness in our lives.
Psalm 34:15 The eyes of the LORD are on the righteous, and his ears are attentive to their cry.
Hebrews 4:13 "Nothing in all creation is hidden from God's sight."
Matthew 6:8b, … for your Father knows what you need before you ask him.
Scripture is clear… there isn't a rainy day, a disappointment or a tear that God doesn't know about. He sees … and He knows… and He cares.
I Wonder
As I sat with that truth, it made me wonder why God preferred rain for us those last four days of vacation. What's up with that? I prayed. My perspective seemed to shift ever so slightly — my coffee more delicious, and my family more precious.
Needs vs. Wants
The truth is, we get our needs and wants mixed up all the time. In fact, just this week as I loaded my groceries on the belt, the clerk asked, "did you find what you need?" I smiled as I looked down at my items— almond milk, lots of produce and a chocolate bar. With unexpected honesty I answered, "Yes thank you, but need has nothin' to do with it."
And that's just it… God knows what we need, better than we do.
What about the Really Bad Stuff
Perhaps it's unfair that I'm making a difficult spiritual point inspired by a little rain on our vacation parade. After all, really bad stuff does happen. I get it. I've experienced really bad stuff too. But even the really bad doesn't change God's love or intent for us. His grace is relentless and He will never stop fighting for all of us, our total dependence.
In my experience, when I'm suspicious of God's choices, God is harder to trust. And before I know it, I'm back in the drivers seat, leaving no room for God to be God.
"Someday you'll thank me."
This past week I pulled out the parent card. It's the move you make because you love your child, even if they won't understand. (In my case it's especially hard because the kid is an adult who still lives at home and would choose different rules.) The kid was caught and punished. And even though he accepted the consequences, I heard words come out of my mouth that my mother said to me. She said it when she pulled her parent card knowing she knew better than I did. "Someday you'll thank me."
Father Knows Best
The Holy Spirit has been repeating the phrase to me ever since. My Heavenly Father does know best. He loves me too much to not use the parent card. Someday, sanctified, when it all makes sense, I will thank Him, grateful that He didn't allow me to get my way.
Because we can't see what He sees and we can't know what He knows, our assignment is simple — trust Him. He will use all of it — the messy, the hard, the broken and the beautiful and every seemingly insignificant rainy day.
Romans 8:28 28 And we know that in all things God works for the good of those who love him, who] have been called according to his purpose.
Besides, He promises to finish what He's started. In the end, He'll put it together into a redeemed whole. And then we'll be reassured that not one piece of our story was wasted.
Phil 1:6 6 being confident of this, that he who began a good work in you will carry it on to completion until the day of Christ Jesus.
Dear Sovereign Father, I praise you for your relentless grace that will never let me go. Forgive me for the times when I doubt your ways. Too often, like a petulant child, I want what I want when I want it. Help me to trust that you always know best, even if it makes no sense. Thank you that when I surrender, I can know peace. Someday I will really thank you. I can't wait.
For His Glory, Debbie Hucke