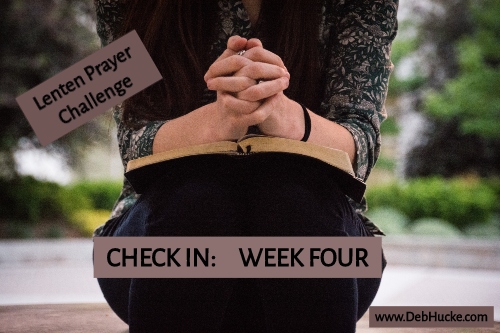 Keep on Keeping on.  Do you realize that the closer you are to God the harder the evil one works to upset that?  Now into week four my guess is that he has probably stepped up his efforts in your life. Does your time seem less available; has your desire waned; or has crisis of life diverted your attention?  Don't fall for it!  It's his favorite ploy.  If he can't get you to question God, he'll work hard to keep you busy and away from His presence.
It is humbling to hear from many of you and how the Lord is using these devotionals in your life.  I am humbled to be His scribe.  Please have courage to publicly comment if you would.  Reporting what the Lord is doing in you and for you and through you not only encourages us all, but it also brings Glory and Honor to Him.
Below are each of the devotionals from this past week.
For His Glory,  Debbie Hucke
DAY 17,
DAY 19,
Isaiah 26:3 NIV
3 You will keep in perfect peace those whose minds are steadfast, because they trust in you.
Who wants perfect peace? No brainer, right. This verse is a promise. A promise to the one whose mind is steadfast, because he trusts in God. Sooooo, the way I see it, if you don't feel perfectly peaceful, that's on you.
I confess that I can be a worrier. I think about something and consider scenarios that cause worry. Sometimes in such a state Doug will say, Debbie don't worry. Yeah, like that works! In those moments I'm tempted to say… oh what a great idea, I didn't think of that. (I hope you can read the sarcasm.)
What does work? Keep your mind steadfast. The King James Version says, stayed on God.
I've seen this popular meme float around facebook. Don't tell God how big your problems are. Tell your problem how big your God is. I believe that is the shift Isaiah suggests. A steadfast mind focuses on God instead of the problems.
So in the face of circumstances that threaten your perfect peace, speak the promises you know about God. This discipline, even when you may not 'feel the promises' will re-establish peace.
Lord, I praise you God for your sovereignty. You are all powerful, all knowing and all loving. While I know that is all true, my mind wanders. Forgive me for entertaining thoughts that disrupt my steadfast mind. Thank you for this promise. Help me to realize that when my mind is stayed on you, my trust will grow and I'll experience perfect peace. Amen.
Two weeks ago I was privileged to hear Lauren Daigle in concert. Below are the lyrics to my favorite Daigle song,Trust in You.As you read the lyrics in light of your circle, think about the truths she highlights to keep your mind steadfast.
Letting go of every single dream
I lay each one down at Your feet
Every moment of my wandering
Never changes what You see
I try to win this war
I confess, my hands are weary, I need Your rest
Mighty warrior, king of the fight
No matter what I face You're by my side
When You don't move the mountains
I'm needing You to move
When You don't part the waters
I wish I could walk through
When You don't give the answers
As I cry out to You
I will trust, I will trust, I will trust in You
Truth is, You know what tomorrow brings
There's not a day ahead You have not seen
So let all things be my life and breath
I want what You want Lord and nothing less
When You don't move the mountains
I'm needing You to move
When You don't part the waters
I wish I could walk through
When You…
For further study on this scripture, here are a few blog articles.
---
DAY 20,
Psalm 139:13,14
13 For you created my inmost being;
you knit me together in my mother's womb.
14 I praise you because I am fearfully and wonderfully made;
your works are wonderful,
I know that full well.
Have you ever questioned God's perfect design? Have you ever looked in the mirror and pointed out everything that was "wrong" or "ugly" or "jiggly" about yourself? Admit it. You've done it. I've done it. I still do it. All the time.
But that's not where I really wrestle with this truth. Ian was born with a horrible condition that has changed everything not only for him, but for our family. And to shoot straight, it seems completely unfair. It seems as if God made a mistake. It seems as if Psalm 139:13:14 doesn't apply in some cases.
Perhaps you can relate. Do you or someone you love have an unfair diagnosis? Do you feel passed over on this passage of scripture.
To wonder WHY is human. But to believe Psalm 139:13,14 in the face of a horrible diagnosis is truly liberating! "For my thoughts are not your thoughts, or your ways my ways, says the Lord. For as the heavens are higher than the earth, so are my ways higher than your ways, and my thoughts than your thoughts." Isaiah 55:8-9
God is sovereign. God's works are wonderful, I know that full well.
My handsome ginger has cavernous angeomes in his brain that spontaneously bleed. As a parent, I may understand more about this rare condition. As a mother, I may anticipate the challenges that Ian will face in the future. But as a child of God, I know that the Creator has knitted Ian together in my womb. He has blessed our family with Ian who is fearfully and wonderfully made. And it is by His perfect design and for His purposes that I trust Him. Only when I stand on that truth can I begin to comprehend the unfathomable grace and mercy that He pours out on me.
God doesn't make mistakes.
He never does.
Father God, I praise you for your sovereignty. I confess, like a demanding toddler, I want to understand your ways. But Isaiah makes it clear that I never will. Thank you for your patience with me. Thank you for you choosing me to be Ian's mother. It is a high calling and one that is only possible with a posture of complete dependence on you. Please help me to remember that! Amen.
---
DAY 21,
2 Corinthians 4: 16-18
"So we do not lose heart. Though our outer self is wasting away, our inner self is being renewed day by day. For this light momentary affliction is preparing for us an eternal weight of glory beyond all comparison, as we look not to the things that are seen but to the things that are unseen. For the things that are seen are transient, but the things that are unseen are eternal."
Take heart!
This encouragement comes from the Apostle Paul, later in his ministry. He can't see the way he used to (and there were no eye glasses). He can't hear the way he used to (and there were no hearing aids). He doesn't recover from beatings the way he used to (and there were no antibiotics). His strength, walking from town to town, doesn't hold up the way it used to. He sees the wrinkles over his face and neck. His memory is not as good. And he admits that all of it, is a threat to his faith and joy and courage.
But Paul does not lose heart. Why? He doesn't lose heart because his inner self is being renewed. How is that possible?
The renewing of his heart comes from something very unexpected. It comes from looking at what he can't see. What? It makes no sense. And yet… it's true. A few verses later in 2 Corinthians 5:7 he says, "We walk by faith, not by sight."
This doesn't mean that Paul walks blindly into a black abyss. It means he proceeds confidently through the lens of the gospel. The gospel is the truest of true; and far surpasses the material sight of his present reality.
I agree… it isn't easy. But, with the help of the Holy Spirit, walking by faith is a game changer. It is the ONLY way we won't lose heart.
Praying friend. Don't despair. You are not alone. Jesus sees. Jesus knows. You may be wasting away. And you don't understand His work in you. There is a high calling, a greater purpose for your circumstances. One day He will redeem it all. And when you step into eternity you will receive the crown of life.
Because Paul sees his life through the lens of faith, he does not lose heart. The same can be true for me and for you.
To dig deeper on the subject of eternal hope and this scripture, read this article
---
DAY 22,

Ephesians 2:10 For we are his workmanship, created in Christ Jesus for good works, which God prepared beforehand, that we should walk in them. (ESV)
You know what? YOU, are a piece of work! So am I. God's work! The ESV translation says we are His workmanship. Other translations say we are His masterpiece. Think of it. God, the all powerful, all knowing, all loving creator of the universe thinks of you as His masterpiece.
Do you feel ordinary? As you go about your day doing your normal activities, do they seem important, significant, eternal even?
I believe there are two kinds of people. People who have a sense of purpose and people who do not. Let me caution you, purpose has NOTHING to do with your physical abilities, your education or even your age. Purpose has to do with standing on the promise of Ephesians 2:10. You can't outlive your purpose!
Consider this… Nothing you do today is unimportant. God is keenly interested in the smallest detail.
If that doesn't put a spring in your step, it should! Choose to believe what God says about you. You are His masterpiece, created to do good things.
For this lenten prayer challenge, my son Ian has been my circle. Today, I pray for Ian to believe Ephesians 2:10. I pray for Ian to believe he is extraordinary. I pray for Ian to believe he has great purpose. I pray for Ian, the artist, to believe that he is God's masterpiece. May the truth of this promise motivate my handsome ginger.
For further illustration of this passage, read my article Something Big!
P.S. The May 2019 Art exhibit that seemed so far off when I wrote the Something Big article quickly approaches. Everyone is welcome!
Artist Talk: Friday, May 3 at 5:30pm, Opening Reception: Friday, May 3, 6 – 8pExhibition Dates: May 3 – 23, 2019.
---